Review + Photos: Gen Con 2019 Exceeds All Expectations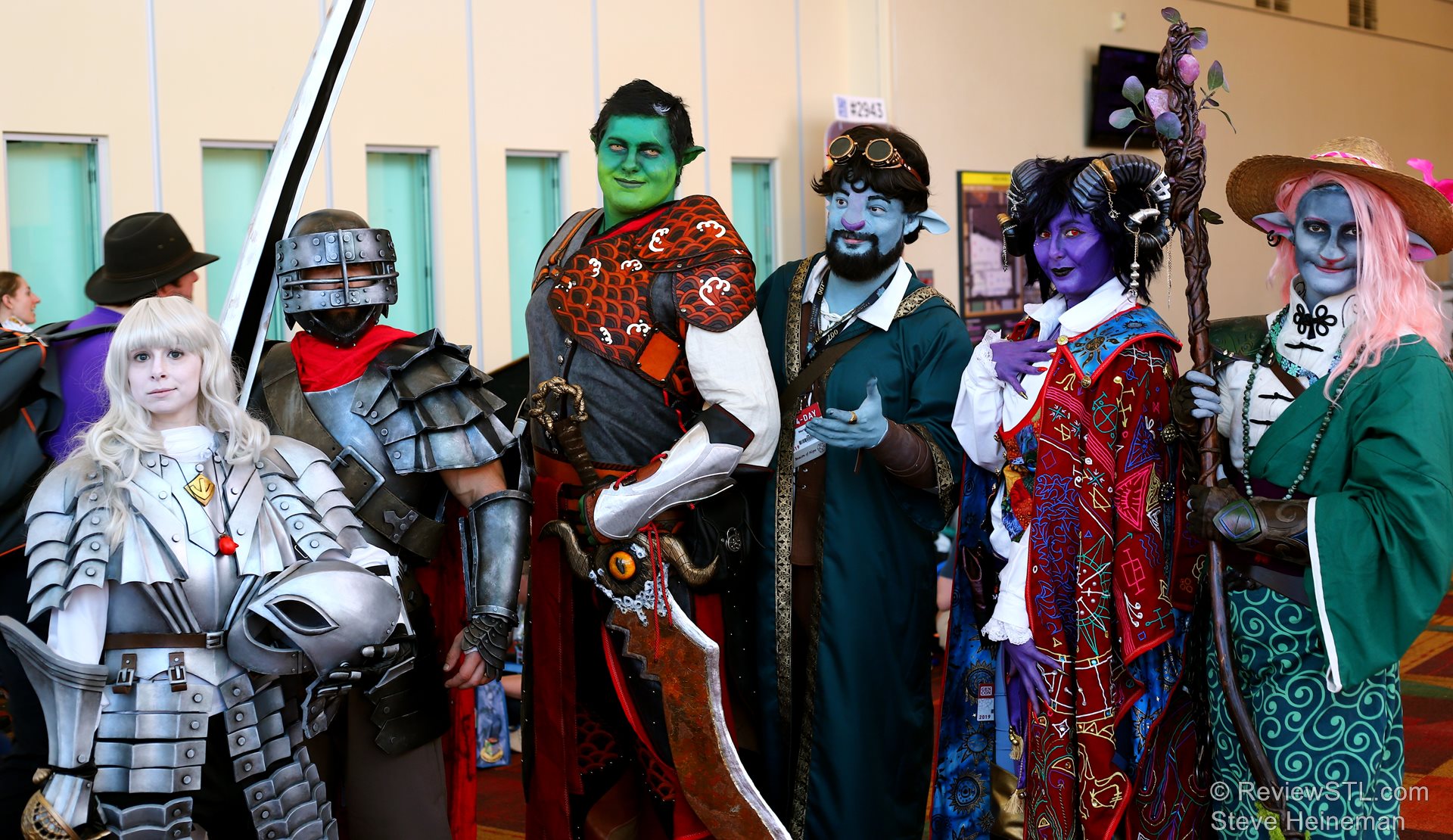 Gen Con has officially earned its place as my favorite convention. I honestly did not think that anything could top last year, but I was proven wrong in a big way. Even with the hurdles, we had to endure to make it to this year's con, my whole traveling crew had an unforgettable experience.
Let me preface the awesomeness that was Gen Con 2019 with a bit of backstory and advice. After last year, I knew that I would have to be quick off the line to sign up for pretty much everything I wanted to do. We came into the game late in 2018, so by the time we started looking at events, the majority of them were sold out. James and I were lucky enough to snag some last-minute tickets to the Critical Role live show, but I didn't want to have to leave it up to chance like that again.
Badge registration went fine. I was already in the system from last year, so I got approved immediately once again. Then came the first hiccup… housing registration. It was a random draw for a timeslot to sign up for housing and I rolled a Natural 1. If you're not familiar with Dungeons & Dragons, rolling a Natural 1 is a critical failure. Both James and I received late afternoon time slots, which meant by the time we got in to pick a hotel… there was NOTHING available within a 10-mile radius. We figured we'd keep our eyes open at the closer hotels for cancelations, but ended up with an AirBnB about a 15-minute drive away. Then the week of the con, our AirBnB cancels on us because of an AC outage! We considered ourselves extremely lucky to get the room we found at an airport hotel about 6 miles away.
Next was the Critical Role live show. The tickets for this event are sold separately from the typical Gen Con tickets, and are staggered sales for both VIP and GA. I was on Ticketmaster the morning that both VIP and GA tickets opened. They both completely sold out IMMEDIATELY and I was unable to get either. I figured it wasn't the worst, because we could try what we did last year. Unfortunately, that didn't work out either and we resorted to watching the live stream from a hotel room.
Finally, event registration. I coordinated with some friends that made it into the CR live show (Hannah, Sarah, and Morgan of Terrible Trio Creations) and we all had our events picked in our wish lists for processing. The exact moment it opened up, I pressed the submit button. When the queue finally popped up, I was number 1500-something. By the time my wishlist was processed, literally all of the things I wanted to sign up for had sold out. The only thing I made it into was the Critical Role aftershow Talks Machina because Hannah and Sarah got me a ticket. I seriously cannot thank them enough for that, because it was a wonderful hour of nerdy goodness.
I am by no means complaining here. It was a series of unfortunate turnouts, but I still went into this con holding my head high. I wouldn't let some random drawings knock the wind out of me. That's my advice to any con-goer that rolls this kind of luck. As long as you go with the intention of enjoying yourself, you can have fun at Gen Con no matter what you do. That being said… be prepared. Don't wait to sign up for anything. Plan ahead and get on it as soon as it's available.
Scroll past photos for the daily recaps!
THURSDAY
The first day of any con is a good time to test the waters. Since we had already been to Gen Con once before, we could skip past the "finding everything" phase and jump right into the thick of it. Since I would be debuting a new costume on Friday, I figured Thursday would be the best time to bring out my vault suit for another stroll through the wasteland. It worked out perfectly because Thursday was my day to visit the Modiphius booth to pick up some Fallout: Wasteland Warfare miniatures as well as join the "Nuka Road" game being held in the main gaming hall.
After getting myself good and bloody, we went to our reserved parking spot on the south side of Lucas Oil Stadium and started the walk to the convention center. James split off to go get in the massive line for Will Call while Dan and I headed for the Press Room to pick up our badges. We got into the convention center just in time to witness the mad rush of con-goers as the doors to the vendor hall opened for the first time. It was truly a sight to behold as hundreds of fans piled into the 300-aisle room to be the first in line for various deals and exclusives.
We waded through the crowd to get to the Press Room where we were greeted with badges, programs, and coupon books. We took advantage of the refreshments available and combed through the coupons before pressing onward. I grabbed the coupon for Modiphius and headed over to find the checkout line wrapped all the way around the booth.
I told myself a while ago that I'd limit my purchase of more Fallout miniatures until I painted the ones I had already bought. That sort of went out the window when Modiphius announced their Gen Con exclusives. They were selling translucent versions of some models I hadn't bought yet, models that hadn't even been officially released. So naturally, I caved and got them. Since I was wearing the same costume I sported last year, two of the Modiphius demo team recognized me! I got to chat with one of them about the game and future releases as we waited in line to pay for our loot. In addition to the miniatures, I also picked up the Fallout RPG book so I can run a campaign in my favorite wasteland setting.
The next thing on my to-do list was a game called Nuka Road, a mashup of Fallout and Mad Max. I spent some time wandering with my friends Louis and Casey from St. Louis to kill some time before my game and their first shift at True Dungeon. They said working at the huge live-action dungeon crawler was a lot of fun, but it unfortunately took up a whole lot of their time at Gen Con. Once we parted ways, I sat down to take a ride down Nuka Road.
This was only the third time I've played Fallout: Wasteland Warfare, but it was easily the most fun! It was run by Adam Huenecke (@giddyup_buttercup on Instagram), who is a wizard with miniatures and knows the game inside and out. Since I was dressed as a vault dweller, he put me on the side of the survivors. Our team's goal was to fight off the road raiders chasing us down as we escaped Nuka World on a war rig. The supplemental rules for maneuvering in vehicles were well thought out and made for some fast-paced fun. Unfortunately, we weren't able to finish the game, but it could have gone either way!
By the time I was done, more friends from St. Louis had shown up to the con. I wandered into the vendor hall once again to find Hannah and Morgan of the Terrible Trio. I joined them for their first trek through the massive room of exhibitors, checking out the various shops and game demos attracting all of the Gen Con attendees. We made our way out to the large assortment of food trucks known as the Gen Con block party to get dinner and some beers from Sun King Brewery, which makes a special brew for Gen Con every year. This year was Brewtron 9000, a tart golden ale that was quite refreshing in the afternoon hours.
As the evening came upon us, Hannah was delighted to show off the Mollymauk coat she'd been working on for months. Even though we weren't dressed as the Critical Role characters, the colorful garment still drew a whole lot of attention. We even made some new friends because of it! We met the extremely talented April and Alex (@_aprilgloria and @aleestudios on Instagram) and spent the evening chatting about our love of Critical Role and other nerdy fandoms. We were also joined by the wonderful Lauren and Ethan (Thousand Faces Cosplay), Brittani Ginoza (Ginoza Costuming), and Amanda Haas (JediManda)!
Thursday was already such a great experience, we didn't know how it could possibly get any better. Terrible Trio had some flight issues, delaying Sarah from arriving when she had hoped. To kill time until her arrival, we decided to play a game of Cards Against Humanity in their hotel lobby. This was when we made a huge discovery. The cast of Critical Role started to filter into the lobby… first were Laura Bailey and Travis Willingham. They were followed shortly by Sam Riegel, then Brian W. Foster. They were staying at the same hotel as the Terrible Trio! We tried our best not to spy on them like creeps, but could barely contain our excitement at seeing these professional voice actors who happen to be our favorite D&D players.
FRIDAY
Friday was the big day. I had to get up pretty early to gather all my things and head over to the Terrible Trio's hotel room to get into costume. I arrived shortly before 9a.m. to meet Morgan in the lobby while he grabbed some coffee. When we got up to their floor, we stepped out of the elevator to come face-to-face with Travis Willingham. So not only was he in the same hotel, he was on the same floor! We practically ran to their room to tell the girls the news before getting ready.
Now getting ready to portray these characters held several firsts for me. Up until this con, I had never cosplayed as an actual character. Both my vault dweller and my Jedi are pretty generic, but Matt Mercer's Pumat Sol was an established character with a voice and art to go along with it. Not only that, but this was the first time ever that I was doing full makeup, prosthetics, and a wig! I spent a solid seven years getting used to being bald, so let's just say that wearing a wig was a really weird experience for me.
I had assembled the costume from pieces I found on the internet, with some sewing and leather help from both Hannah and my St. Louis friend David (who has yet to go to a con, but I'll get him hooked one day). The costume itself wasn't the main attraction though, it was the fact that I had been practicing Pumat's iconic voice for months and absolutely nailed the performance. The smiles I brought to people's faces upon doing the voice warmed my heart.
It took over four hours to get fully ready and head down to the floor. Hannah excitedly strutted as the vibrant and exuberant Tiefling Blood Hunter, Mollymauk. Morgan, as usual, towered over the rest of us as the intimidating Captain Tusktooth, the Half-Orc Warlock known as Fjord. Sarah provided all the wisdom, positivity, and tea we could ever need as the Firbolg Grave Cleric, Caduceus Clay. I took on the role of Enchanter Pumat Sol, the Firbolg owner and operator of The Invulnerable Vagrant. 
We were almost constantly being stopped for pictures from the moment we got off the sky bridge connecting the hotel to the convention center. Once again, I have to thank the Terrible Trio for letting me join them in this group cosplay because it was an amazing experience.
Our main goal for the afternoon was to attend the Critical Role cosplay photoshoot. We went to the designated cosplay area to meet the other Critters before realizing there were way too many of us. Last year the Critical Role cosplayers filled nearly the entire cosplay area, but this year we easily doubled it! Unfortunately for those of us in full body paint and heavy costumes, we had to go outside to accommodate the numbers.
It may have been super bright, it may have been hot, but it was so much fun to gather with all of the other Critters and share our love of this delightful and crazy show. At least a couple hundred people all gathered just outside the Indiana Convention Center to capture the great cosplays. I was torn between being in and taking photos. As the group assembled, I noticed that I was the only Pumat Sol. Soon enough the crowd of Critters noticed that too and a massive chant for my character erupted, calling me to join the photo. I replied in my Pumat voice to their great joy and it felt like I had really become the character. Many photos were taken that afternoon. I just wish I actually had copies of myself like the real Pumat so I could have covered the whole event!
After a brief, more intimate shoot with Alex (@alexeestudios) in some shade to the side of the main gathering. She is an extremely talented photographer and a master at setting up shots. I know there's a lot I could learn from her expert techniques so I hope we have a chance to hang out at a con again soon! I snapped a few good photos of April (@_aprilgloria) and the Terrible Trio as well while she worked her magic.
An hour and a half out in the sun in full costume and makeup is a good way to get worn out. But that gathering of wonderful people raised our spirits so high that we rode through the rest of the day with relative ease. The Trio didn't have long before they'd need to go to the live show, so we retreated to their hotel room with April and Alex to dig into some of Pumat's potions. Hannah and Morgan helped me workshop some drink mixes that were as visually striking as they were delicious. I tried to put them into small corked potion bottles, but unfortunately had some leaking issues so we had to go straight from the big bottles. I may be bringing these concoctions to DragonCon as well.
Just before the Trio had to leave for the Critical Role live show, we were joined by their hotel roommate Nick Hangar, owner of Metal Oak Casting Studios. He's responsible for casting molds for a lot of amazing miniatures including a lot of great ones featured at the convention. I stayed around to catch up with Nick on the day's events and finish changing into the casual version of Pumat Sol while the Trio left to catch a Lyft to the show.
It was important to me to have a dressed-down casual version of Pumat because the full costume has a lot of layers. While Pumat's costume included a laced shirt, vest, robe, and arm guards, the casual version only required my Invulnerable Vagrant t-shirt. I was glad to have it too, because my laced renaissance shirt for the main costume was stained all over from my body paint and beard coloring. Since the body paint was such a commitment, the Trio and I were all planning to wear it two days in a row.
I met Dan and James down on the game floor near the Magic the Gathering tables. They had met up with Justin, who was only able to get to the con that morning to join us for the fun. Since none of us had much planned for the rest of the evening other than watching the live show stream, we decided it was a good idea for dinner.
A short walk away from the center, Loughmiller's Pub & Eatery was packed full of hungry patrons. We joined plenty of others from the con for a delicous meal. Needless to say, there were a lot of looks at the shaggy haired blue satyr-looking guy eating a huge fried fish fillet. A waitress even came up excited to tell me about her first experience with Dungeons and Dragons. Spreading joy to people like that is the reason why I cosplay, and it was really good to feel it outside the convention.
We weighed our options for watching the stream before heading back toward the convention center to meet with Louis and Casey. I was thrilled to hear their crazy stories about groups running through True Dungeon while we walked back to the Trio's hotel. I figured it'd be great to just relax in the hotel lobby and watch it. Dan split off from the group to go participate in a Pathfinder event. Unfortunately I didn't have time to play any RPGs over the weekend, but it sounded like he had a great time.
We retreated to the room so I could finally free my face from the uncomfortable glue and spirit gum that had been holding them on. After a whole day in those prosthetics, pulling them off felt so good but took a while to clean up. We watched the live show from my phone attached to a Bluetooth speaker. I have a feeling it's the same thing a whole lot of other Critters were doing at the same time… and it didn't make the show any less great!
The cast of beloved voice actors playing Dungeons and Dragons lit up the entire audience in joy, dread, excitement, and song. Matt Mercer took the Mighty Nein through a rollercoaster of events, with the party facing some seriously dangerous enemies. A few of the party teetered on the brink of death. The episode wrapped up with the Mighty Nein finally making it into a town to start off the next part of their adventure. Louis and Casey had left to call it a night, Justin had left to find some other St. Louis friends at the con, but James and I opted to stick around and hang out with Nick to discuss the con and the live stream.
After a mile walk back from the theater, the both excited and exhausted Terrible Trio arrived again to finish off the night. They recapped many of the things we didn't get to see from the stream, including the entire theater audience joined in singing the show's theme song. An unfortunate issue with acquiring their Lyft led to them being late, but it ended up working out nicely for them. As they entered the theater and went to take their seats for the VIP show, the entire cast saw them and was stunned by their epic costumes!
That was a wrap for Friday at Gen Con. James and I went back to our hotel with Dan and Justin where I spent the next hour cleaning as much of the paint off my face as I could before going to sleep. Just like last year, I figured I wouldn't get much sleep at this convention. I was right.
SATURDAY
Just like Friday, I got up early to make the trek over to the Trio's hotel room. This time, the makeup and prosthetic application took much less time. I paid attention as Sarah put on my prosthetics the day before and took care of it myself this time. I opted not to color my beard black, mostly because I didn't want to risk staining my Invulnerable Vagrant shirt. Since we all still had a lot of the paint from the previous day on us, it was a much quicker process to get ready to venture out.
The Trio were hoping to join the costume competition that day. Unfortunately, they weren't able to sign up before all the slots were filled. They were disappointed at first, but were immediately consoled by more Critical Role fun as we went to attend Talks Machina in the early afternoon hours. Our walk there was graced by many talented cosplayers and Critters. We saw April again, this time in full Critter cosplay glory as the beautiful Marion Lavorre, the Ruby of the Sea. I got a great adorable photo of her with the wonderful cosplayer and musician Ginny Di as the trickster cleric Jester, Marion's daughter.
The panel itself was fantastic. The entire cast (minus Ashley Johnson because she's out filming) was present for an hour-long Q&A session hosted by Brian W. Foster. The energy from the audience was high enough it probably could have powered the entire city of Indianapolis. Just before the questions started, they called for all of the cosplayers to stand up. I was delighted to join the Terrible Trio as we all stood and waved at the cast. Two of the beloved actors, Taliesin Jaffe and Sam Riegel even spotted us in the crowd of critters! We watched in excitement as the cast fielded every question thrown their way, giving us some exclusive insight into some of their decisions in the game. All too quickly, the panel ended and we were ushered out back to the con floor. Fortune smiled upon us again as our path crossed Dani Carr, the Production Coordinator for Critical Role. We stopped to say hi and snap a quick photo before moving on to find some much-needed food.
Since the Trio decided not to join the costume competition and we were all ravenously hungry, we picked lunch over walking in the cosplay parade. I would have liked to grab some photos of it, but I would have been a complete hangry mess by the time it was over. This is a good lesson for all those out there looking to go to their first conventions. There may be all these amazing and wonderful things to do… but you have to take care of yourself first. Meeting a celebrity or catching a panel isn't worth ruining the rest of your weekend because you forgot about food!
After grabbing some tacos from one of the food trucks, we walked back through the con to the Trio's hotel. On the way, we were impeded by the crowd gathered in the hall to watch the cosplay parade. We had to push into the lane to get through, which lit up the waiting fans. I replied in my Pumat voice telling them the parade was about to start and that we weren't part of it, but it didn't stop them from taking all kinds of photos and videos. Unfortunately, we couldn't stop because Morgan was using Fjord's sword to carry the majority of our food through the crowd. Within a few more minutes, we were back in the hotel room for a much-needed lunch break.
Prosthetic noses can be fun to look at, but they sure are a nuisance to wear while eating! Sarah and I decided that a day and a half was enough and took them off to finish our lunch. Honestly, the makeup we did to replace them turned out looking pretty good. I can't speak for my looks, but everyone agreed that Sarah was a whole lot cuter with her human nose. We thought it would be a great idea to go back down to the exhibitor hall for the last hour and a half before it closed. Well, that didn't happen… but for the best reason.
Shortly after Sarah taped a note to the cast of Critical Role and bags of her own tea blend outside the door, we heard a knock. It was Rachel Romero, the SVP of marketing for Critical Role. She had seen the note and took a picture of it to share with the entire cast! We spoke with her briefly about the live show, our costumes, and the con in general before two very familiar faces approached… Taliesin Jaffe and Brian W. Foster. I watched Hannah and Sarah expertly contain their overwhelming excitement as we chatted with the man who actually created the characters they were embodying. Let me tell you, these wonderful people couldn't have been more kind and welcoming to us weirdos in too much body paint.
Taliesin immediately gave us each a small envelope with a label that said "A Short Rest (You Deserve It)." We knew that the Critter community was big on gift giving, but we were ecstatic to receive these tokens from the Eldritch overlord himself! I quickly dug out one of my bottles of Pumat's potion, specifically the Resistance potion (a citrusy concoction of a vibrant blue color with gold flakes in it), and gifted it in response. I have to thank Rachel for taking a fantastic photo of Taliesin wearing Hannah's coat while the four of us surrounded him. It was an unforgettable moment and we really hope they enjoyed the tea and potion.
As soon as the door to the Trio's hotel room closed, all sense of composure melted away. There were tears, hugs, laughs, and a quick call home to share the story of the amazing moment we'd just experienced. The idea of visiting the exhibition floor again went completely out the window, and missing the costume contest was suddenly completely worth it for the Terrible Trio. I was so happy to share the moment with three of my best friends and all around favorite people in the world.
Once we collected ourselves, we went back down to the convention center to meet with the rest of our Critical Role cosplay crew. Louis and Casey had just finished up their shift at True Dungeon and were eager to join us as the brilliant Wizard Caleb Widogast and the adorable and sweet Kenku Kiri. After nearly two days, I was finally able to get some photos of our whole squad, with Nick from Metal Oak Casting just for fun. Justin met us at this point too, scouring the cosplay area for good photo and video opportunities. After some time in the cosplay area mingling and recapping the day's events, we ventured out into the late afternoon sun to get some beers from the Gen Con block party.
Unfortunately, Kiri proved to be a little too much for Casey in the heat. We were all feeling it, so we sent out some messages to other friends and decided to spend the evening playing games. It was a welcome break after the last two days of excitement. We were able to remove most of our costumes in the Trio's room and relax in the lobby for a game of Cards Against Humanity while we ordered delivery for dinner. Our plan was to play some cards, then switch to a favorite game among our friend group, Red Dragon Inn. If you're not familiar, the premise is that players take on the role of an adventurer (typical D&D archetypes) for a night of drinking and gambling at the Red Dragon Inn. The game goes until everyone either passes out drunk or is kicked out for losing all their money and one person is left standing. It's a lot of fun, but can take a ridiculous amount of time with more than a few players.
Slowly we realized that Red Dragon Inn wasn't going to happen. More and more of our friends showed up… April, Alex, Amanda (JediManda), Brittani (Ginoza), Will (DLC Props), James and Dan (from my traveling crew), and James Wulfgar (Wulfgar Weapons & Props). We didn't know it at the time, but we pretty much hosted the Gen Con cosplayers party in the hotel lobby! Everyone shared stories of the con so far as we sipped on Pumat's potions and ate homemade scones from the Terrible Trio. It seemed like everyone was having a great time at the con. Will even met the man behind the entire Cyberpunk universe, Mike Pondsmith, and gave him one of his prop guns! It was a great night to cap of an epic day.
SUNDAY
Last day, what a drag… literally and figuratively. We had to check out of the hotel so Dan, James, and I loaded up my car with all of our stuff as Justin took off early to get back to St. Louis. Neither Dan nor James had any real plans for the day, but I still had some unfinished shopping to do. Since I spent all of Friday and Saturday in costume, I hadn't been able to see much of the exhibitor hall yet. That was my first priority. 
Dan split off to quest alone while James and I went row-by-row through the artist gallery section of the floor. I was hoping to see my favorite artist from the previous year, Mike Sass. Not only was he there again, but he had the piece I wanted to buy from him last year! Knights of the Old Republic is one of my favorite video games of all time and Mike did the original concept art for several of the characters, including the dreaded Darth Malak. Last year, he had one Darth Malak play mat for card games… but he sold out of it before I got a chance to buy it. This year, he had brought more of it and still had several left when I got around to seeing him. Of course, I bought it on the spot and we chatted about our experiences with the con so far. Darth Malak is a cosplay that I really want to do in the future, and I'm hoping to commission a pair of extremely talented St. Louis cosplayer twins to help me with it.
I also got some prints from the artist Christopher Burdett who has done work for both Magic The Gathering and Fantasy Flight Games, as well as a set of glow in the dark "unusual dice" that included some really weird and fun dice like the d3, d9, and d30. While digging through the aisles, James and I came upon the very weary Terrible Trio who were out with the same goal of collecting as many goodies as they could. Morgan was of course on the prowl for even more dice while Hannah and Sarah checked out artwork. We all came across some truly epic Critical Role artwork by Tyler Walpole, which immediately prompted two purchases. The 10-piece set included an individual illustration of each of the Mighty Nein characters, a stylized illustration of Matt Mercer, and a really awesome piece of the group's monk Beuregard performing a Mortal Kombat style heart-rip fatality.
Since we were all tired and ready to collapse, we opted not to stand out in the sun for food trucks again on Sunday afternoon. Instead, we found a nice quiet place to sit down for lunch… a nearby Hooters. Say what you want about it, but they have some tasty food for good prices. Louis and Casey joined us for the meal, fresh out of their cleanup session for True Dungeon, and we all shared stories of the day and showed off some of our recent purchases. 
After food, Louis and Casey parted to start their journey back to St. Louis while the Trio prepared to take Sarah to the airport. Unfortunately, all the good luck we had going over the weekend ran out because her flights back got delayed. We said our goodbyes before James and I went back to the floor, rushing to get a couple of last-minute things. I really wanted to pick up a shot glass that had dice in it as well as a d20 spinning ring that pretty much everyone else had already bought. I managed to acquire both items within minutes of the exhibitor hall closing and then we went to meet Dan at the gaming tables to wait for his random game of Magic to wrap up. From there, it was just making our way back home.
Thank you for reading my recap of Gen Con 2019. Like I mentioned at the beginning of the article, Gen Con has firmly cemented itself as a yearly event for me. I plan to go back every year for as long as I can and bring along as many people as I can to join in the fun. Thanks to Dan and James, my traveling companions and two of my oldest friends. You guys had endless patience putting up with my weird hours and riding along on this journey with me. Thanks to all the cosplayers and critters that made me feel so welcome in the strange and wonderful place. And a special, massive thanks to the Terrible Trio for helping me with my Pumat Sol cosplay, getting me a ticket to Talks Machina, and for just being amazing in general.
Now I have to rest up and prepare for DragonCon!