Review: "Old School" WWE Monday Night Raw – (1/6)
The first Monday Night Raw of 2014 was a start to what is hopefully a great year of wrestling.
The theme for the first show of the year was "Old School," which meant several former wrestling stars were scheduled to appear on the show. Wrestlers from the past such as Roddy Piper, Rikishi, Sgt. Slaughter, and Ric Flair appeared.
While Raw ended the year on a positive note with Daniel Bryan joining the Wyatt's and the return of Brock Lesnar, I was interested to see if the company could put together another solid show to open the year. I was quite pleased, to say the least.
Randy Orton and Ric Flair opened the show, which worked quite well due to the past both men have in Evolution. Orton ran his mouth to Flair, threatening him, which prompted John Cena to appear. Luckily, this was the only time we had to see these two in the show. Cena told Orton to be ready for their main event title match in 3 weeks at Royal Rumble and then did some dancing with Flair. Lame, but the crowd seemed to love it. I did like the segment for the fact that it could be something to build off of when Batista returns. If The Animal goes after Orton, then Orton's blatant disrespect to Batista's mentor Flair could play a pivotal role in the feud.
Fans got their first look at Daniel Bryan as a member of the Wyatt's. Let me say that I'm not opposed to this, however, it seems like WWE could be trying to bury the most popular wrestler they have. I really have my doubts that Bryan stays with Bray Wyatt very long. This storyline seems very reminiscent of Cena joining Nexus and Kane trying to get Cena to embrace the hate from a couple years ago. I see potential in the storyline, but I just don't think WWE will keep it up. I could see Bryan leaving the Wyatt's and removing his beard or something like that. Only time will tell how this works out, but at least it's interesting.
While I have been critical of him for a while, I am very impressed with Big E Langston. He is now the Intercontinental Champion and he is having a great run. He had a solid match against Curtis Axel. It looks like a feud between Langston and Ryback is in the works. Ryback is so bad, I'm afraid he will tear Langston down and kill any progress the big man has made. Hopefully the feud will be a one pay per view feud and be done with.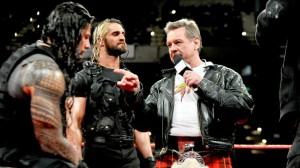 The Piper's Pit segment was rather forgettable, besides the point that Dean Ambrose did a fine job looking absolutely crazy. The segment was used to push the storyline of The Shield possibly breaking up. I will go ahead and speak about the main event now since The Shield was involved. It was Roman Reigns turn to fight CM Punk. The match itself was very good. Reigns is really coming into his own. He has the makings of a big star. I could see him being a major player in the WWE by the end of the year. He has the looks a huge star for the WWE. By the way, he got the win over Punk. It will be interesting to see how Ambrose reacts to this. Speaking of Ambrose, it was almost comical to see him get Jake Roberts' snake placed on him at the end of Raw. You could almost see Ambrose cracking a smile. As for Jake The Snake Roberts' return, it was kept very quiet. He actually denied it on Twitter earlier in the day. Roberts' looked to be in pretty decent shape. It was a feel good moment, as Jake The Snake's personal demons are well documented. He was one of the bigger stars of the 80s with the WWF, so I hope fans will get a few more chances to see the living legend, even if it is just carrying a snake around.
The last segment that I felt was well done was Brock Lesnar's appearance. Last week, Lesnar and Heyman came out and made their intentions to go for the championship well known. Then, Mark Henry came down to the ring and got beat to a pulp. The F5 that Lesnar delivered to Henry was absolutely sick. To think that a man Henry's size landed on the floor like the way he did is mind blowing. Well, apparently last week wasn't enough for Henry, as he came down to the ring to interrupt Lesnar once again. There was some great camera work in the ring when Lesnar broke Henry's arm. The look on Lesnar's face was absolutely priceless. I really felt sympathy for Henry's character, as Lesnar is really starting to seem like a unstoppable monster. Just when it seemed like the segment was over, out comes Big Show. The two stared down each other, which was fantastic in building the tension between the two. Lesnar tried to blindside Show, but Show caught him and basically tossed him across the ring. Again, this segment must be seen, it's a hell of a toss by Big Show. These two will hopefully tangle at Royal Rumble at some point. Lesnar wrote in his book, a few years back, that he loved fighting The Big Show. The two work very well together. I have no doubt that these two would have a very physical and brutal match.
Overall, I was very pleased with the first Raw of 2014. There are a lot of storylines to build off of. With Batista returning in two weeks and the Rumble a week later, this is an exciting time for wrestling fans.
The 1/6/14 episode of Monday Night Raw gets a B.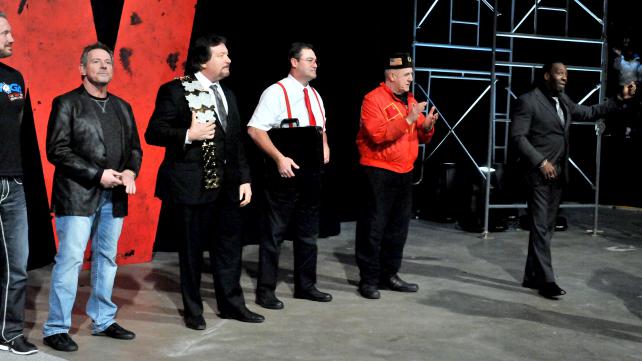 Photos © WWE.