Review: 'Everything, Everything' Starring Amandla Stenberg, Nick Robinson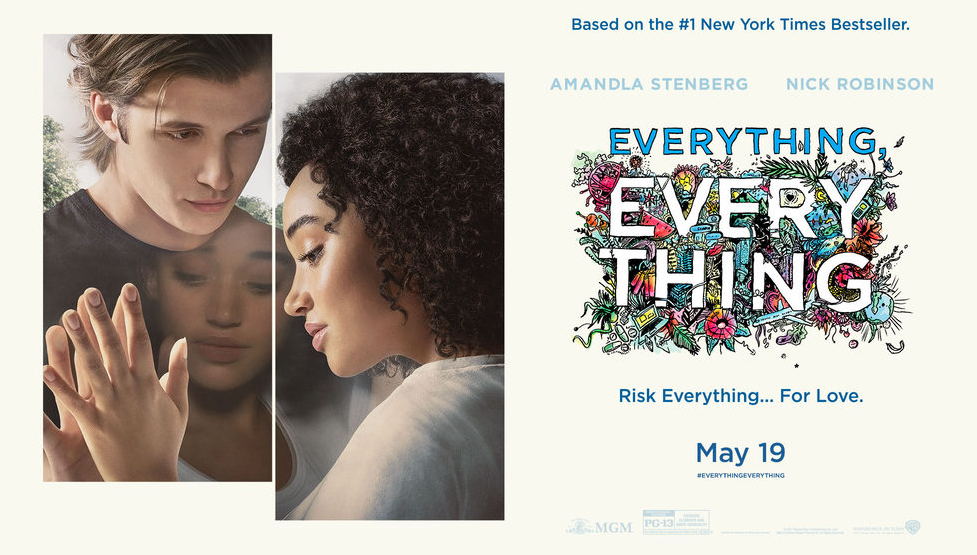 Everything, Everything is based on a young adult book of the same name and is a story about a teenage girl named Maddy Whittier (Amandla Stenberg) who is confined to her home due to a rare illness and has longed for but never stepped a foot outdoors. A short while after a few expository scenes, Maddy catches eyes with the new neighbor boy Olly (Nick Robinson) and sparks begin to fly, increasing her desire to step out into the world and experience life after 18 years of isolation.
It's clear from the start of the film that Maddy is very intelligent and sociable. Her confinement to her home has not stopped her from learning about the world and interacting with people, as she takes online courses, reviews books, and interacts with others via video chat. Stenberg, I think, does a wonderful job in her role bringing a nice presence to the screen and making the viewer genuinely like and care about her. Being an eighteen year old who's never experienced the world outside of her own home because she physically can't has to bear a remarkable weight on her shoulders. At times, you can feel the burden and hold sympathy for her character, but in other times, I found it to be a little more difficult with a few careless decisions that were made throughout the film.
The relationship with Olly begins with some cute window to window flirting before his phone number was presented to Maddy by writing it on the window. I, myself, am not really a fan of the text message to screen trend that happens every so often in movies such as these and I thought this film was going to go down the same path. But something happened that I really admired and became probably my favorite part of the film. At this time in the film, the only characters Maddy has interacted with in person is her mother (Anika Noni Rose) and her caretaker by day, Carla (Ana de la Reguera). However, director Stella Meghie makes a brilliant decision here to show the conversation happening face-to-face with Olly, but only in Maddy's imagination. Maddy is in an online architecture class and is sitting in front of a 3D model in her room when she begins texting him. The scene changes whereas both Maddy and Olly are sitting in a diner but the dialogue is clearly something that's being read as if it were texts. As this was transpiring on the screen, I was dialed in with awe in how well this sequence was done in bringing these two characters together who can't physically be together.
As it's seen in the trailers, Maddy does eventually brave the world outside of her home. I'm not going to get too specific, but incredibly careless decisions are made while she and Olly are out there, and it became so unbelievable that the viewer might suspect she's imagining it – but she isn't. They spend what appears to be the best day of her life together, and while romantic, it just seemed incredibly unbelievable under the premise of how at any time, Maddy could get sick and possible die.
I didn't think entirely too much of how this movie would end before it's viewing. In hindsight, there was only a few ways it could have. There's a revelation at the end of the film that pretty much took me out of the movie entirely. Not only was it predictable, but it didn't flow with the the first hour of the movie at all. It might have made more sense on paper but as it was transitioned to the screen, I feel like it was mishandled entirely and didn't fit in the story it was trying to tell.
In the end, Everything, Everything was a decent flick with surprisingly wonderful music. Stenberg and Robinson were both charming in their roles and their chemistry was believable through the entirety of the film. I just felt like the last twenty minutes or so were half-assed and left a lot of questions to be answered.
Everything, Everything gets a C.
[embedyt] https://www.youtube.com/watch?v=42KNwQ6u42U[/embedyt]