Restaurant Review – Boathouse in Forest Park
Forest Park Boat House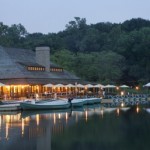 The Boathouse is a cialis 20 mg price little restaurant nuzzled right in the middle of Forest Park. Great service and great scenery make up for their so-so menu.
Starting with atmosphere – The Boathouse has the potential to make you forget you are even in Saint Louis.
The scenery made me feel like I was sitting in my favorite beach side restaurant (minus the sand of course.) I happened to be there on an evening when the local humidity wasn't sky rocketing at 730% like it is on most summer evenings in our fair city. So sitting on their large patio was a must. The patio over looks Post-Dispatch Lake where you can watch the sun drift slowly into the horizon or get a few laughs from children feeding the ducks and turtles.
Our server also left nothing to be desired.
For her sake we'll just call her Agent E. While she was fast and responsive, Agent E also entertained with stories of wanting to push old men off the dock, and into the lake. We must have made a good impression on her as well, because she ended our meal with a free voucher for a boat rental. Saving 15 dollars is always a good thing.
The Boathouse is also a dog friendly restaurant for all of you pet lovers out there. You can take your dog for a walk through the park, and not have to worry if you want to stop for meal or a cocktail. Better yet, if you don't have a date to go out on the boat with you . . . I'm sure your dog would love to be out on the water. Did I mention you have your choice of a row boat or a paddle boat to explore the lake with?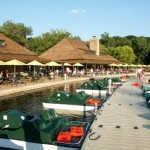 I will say that the menu here left something to be desired. That isn't to say the food wasn't good. It was. There just wasn't a lot of variety. They covered the basics like the BLTs, chicken fingers, and the other basics, but there wasn't a lot of originality. I tried their smoked brisket, which was the craziest thing on the menu. Their little bit of originality came in the form of their Boathouse Ale, which I'm pretty sure was just a Schlafly Pale Ale in disguise.
You can check out more about the boat house at this link:
www.boathouseforestpark.com.