Theatre: Muny's 'Annie' Has Audiences Fully Dressed With Smiles, Ear to Ear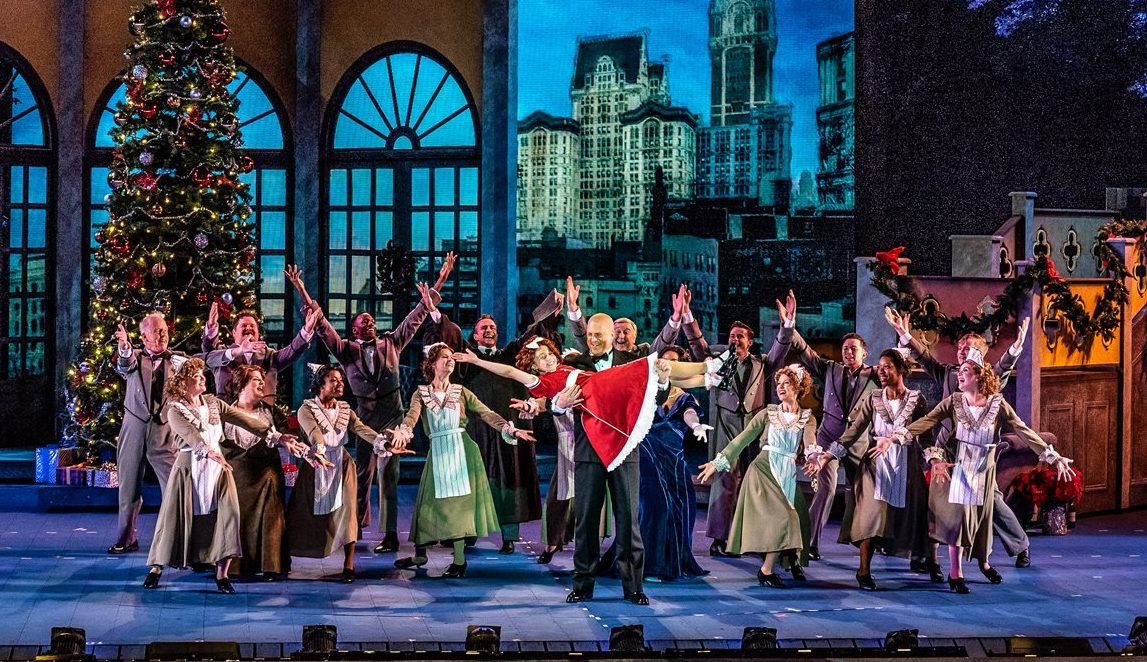 Annie made its Broadway debut in 1977, nominated for ten Tony Awards and winning seven of them – including best musical. The show is based on, of all things, a comic strip from 1924 – Little Orphan Annie, by Harold Gray. With music by Charles Strouse, lyrics by Martin Charnin, and a book by Thomas Meehan, Annie has become one of the most beloved musicals in history. And Wednesday night at The Muny, whether it was their first time or the tenth, the audience was sure to fall in love with the marvelous production.
Annie (Peyton Ella) lives at the Municipal Girls Orphanage, where she was left as a baby with only half of a locket and a note – promising to return one day. Eleven years later, Annie remains optimistic that her parents will return for her, while the other girls aren't as hopeful. They work day in and day out, scrubbing the floors and cleaning the orphanage ("It's the Hard-Knock Life"), under the cruel watch of Miss Hannigan (Jennifer Simard). Annie happens to be in the right place at the right time when Grace Farrell (Britney Coleman) chooses her to spend the Christmas holiday with her employer – billionaire Oliver Warbucks (Christopher Sieber). Warbucks becomes attached to Annie, and wants to adopt her – yet Annie still holds out hope that her parents will come for her. So the businessman uses his influence to do whatever it takes to make the little girl happy.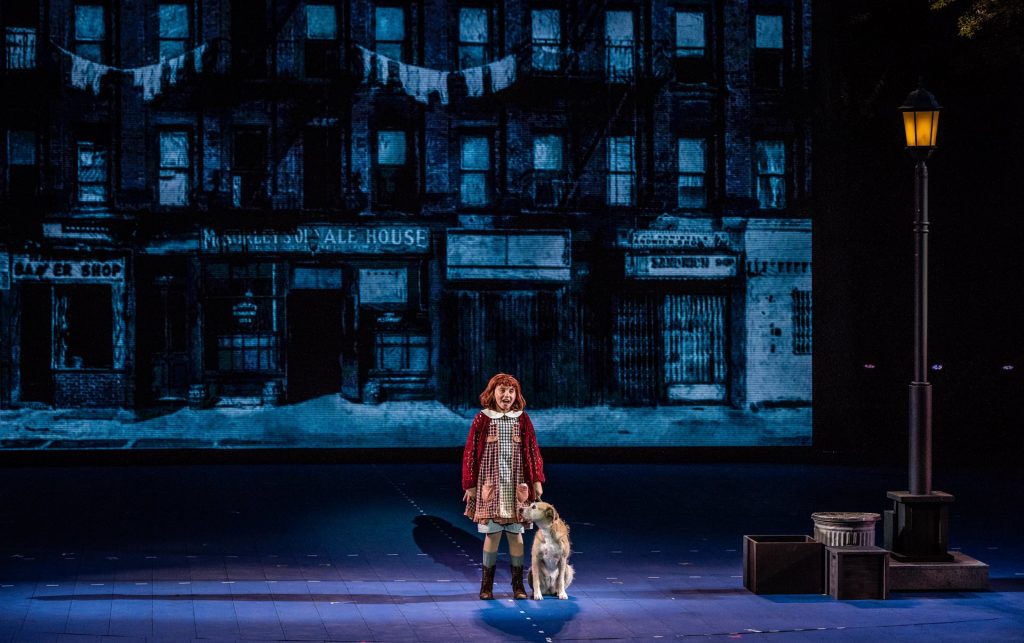 Peyton Ella is superb in the titular role. The young actress has a tremendous voice, and comes off as nothing less than a seasoned actor at the age of only twelve. Ella starred as Annie at the Paper Mill Playhouse and Westchester Broadway Theatre, Lottie in Off Broadway's A LITTLE PRINCESS, and Gretl in NBC's The Sound of Music LIVE (which starred Carrie Underwood back in 2013) among other roles. The actor lights up the stage with her smile, and is an absolute delight to watch perform.
As soon as Ella opened her mouth to sing "Maybe," the first number in the show, a certain calm came over the audience. You just knew that shivers were running through their bodies, as her voice filled the house. And then "It's the Hard-Knock Life" started.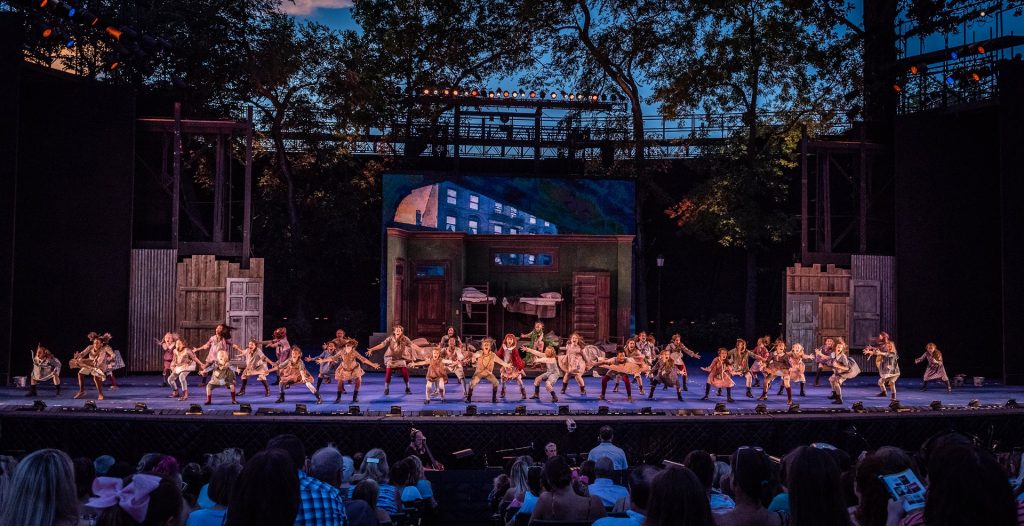 The choreography by Jessica Hartman is brilliant throughout the show, and brilliantly performed by the entire cast. "Hard-Knock Life" is probably my favorite number in the entire show, and this is hands down the greatest version I've ever seen. First of all, the massive stage of The Muny is filled – end to end – with "Little Girls," made up of the principal cast (Ana Mc Alister, Samantha Iken, Trenay LaBelle, Amanda Willingham, Madeline Domain, and Ella Grace Roberts) as well as the youth ensemble. Thirty-seven girls make up the latter, bringing an incomparable presence to the production. And with all of them moving as one, cleaning the orphanage while singing and dancing – it is truly a sight to behold. It was from this moment that we knew we were in for a real treat.
Jennifer Simard (Tony nominee for Disaster!) plays Miss Hannigan, and is nothing less than incredible in the role. She is hilarious as the head of the orphanage, causing the crowd to burst into laughter for much of her time on-stage. Her rendition of "Little Girls" is not to be missed. With impeccable comedic timing, a wonderful voice, and all-around talent – Simard gives a performance that makes it impossible to look away.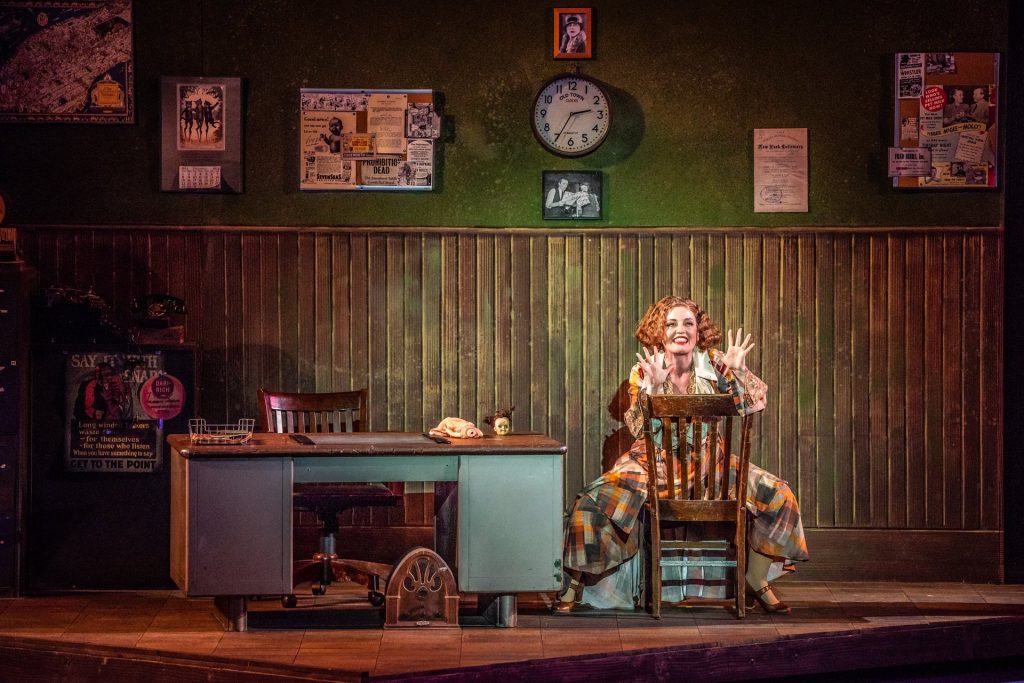 Christopher Sieber returns to The Muny as Oliver Warbucks, after playing King Herod in Jesus Christ Superstar last summer. His charisma and command of the stage are undeniable, as the tough businessman who has a soft spot for little Annie. His chemistry with Ella is so sweet and believable, and the two of them are a pure delight to watch working together. His mannerisms and line delivery are pitch-perfect, and he also has a great voice – made evident in "N.Y.C." and "You Won't Be An Orphan For Long" among others.
The set design is terrific, from the orphanage to the Warbucks estate – and everything in-between. Scenic Designer Michael Schweikardt faithfully captures the feeling of 1930s New York City during The Great Depression, aided by the detailed costumes designed by Leon Dobkowski. When we get to Christmas Eve, and the huge tree is wheeled out – you can hear the entire audience gasping in amazement. This is a great looking show. Video Designer Rob Denton adds many of the subtle details to the backdrops that complete the feeling of the era.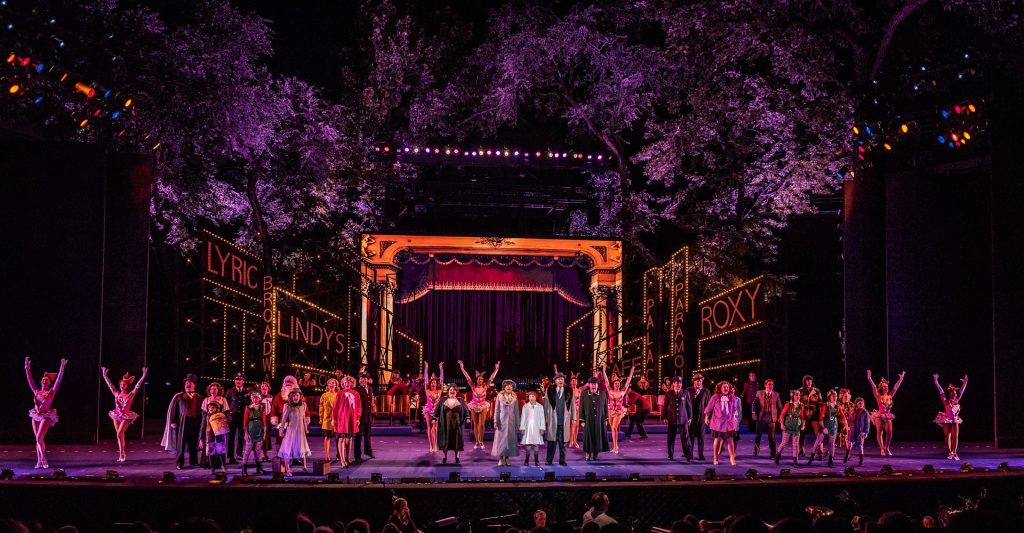 There are so many great songs in Annie, making the original cast recording one that you can listen to on repeat and never worry about skipping around. Conductor Colin Welford skillfully leads the orchestra from one catchy song to the next.
This has been one incredible season, and we still have two shows to go. This production of Annie will go down as one of my all-time favorites at The Muny, as I have not been able to stop thinking about how marvelous the entire production is. Perfectly cast, wonderfully acted, and so much fun! It's a classic musical that should not be missed, during a historic year for America's oldest outdoor musical theatre. Kids will have an absolute blast, while adults will remember just why they love the show so much. And it will make you want to come back tomorrow – after all, it's only a day away.
Annie plays The Muny from July 18 – 25. Tickets range from $15-$100, and are available through MetroTix. For more information, visit Muny.org.