Restaurant Review – Square One Brewery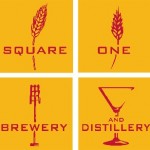 St. Louis is home to many breweries, all brewing their own recipes of beer.  You may love 'em or you may hate 'em, or maybe you're just indifferent.  That's how I felt about Square One Brewery, indifferent.  I started with the Spicy Blonde, a pretty good Belgian ale spiced with ginger & lemongrass.  My second choice, not a good one.  The Light Squared was a hoppy, golden ale that I had high hopes for.  As you may be able to tell by now, I'm pretty open to trying new beers and usually surprise myself with what I like and don't like.  At Square One I just wasn't a huge fan.
With the drinks aside, I will say the food was great!  I've eaten here before and I was a HUGE fan of the Beer Cheese Soup (which is kind of weird considering the beers are just okay).  On this visit I had the Portabello Melt.  This sandwich was served open faced on a Ciabatta with grilled squash, tomato and Swisscheese.  They also "schmear" their spinach artichoke dip on the sandwich which, should you choose to get an appetizer, make it the Spin Dip!  This little "schmear" (their word, not mine) was tasty!  My dinner date got the Pulled Pork sandwich and was also a big fan.  I know, we were boring with our food but it's a pub!  This is standard!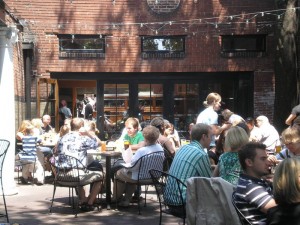 Square One Brewery is in a great location.  Lafayette Square is very quaint and cute, you wouldn't know the projects are just around the corner!  Sit on the patio if it's nice out, the scenery is a nice change from being in a bar.  And if you're looking for a good dessert spot, remember, my favorite chocolate martini bar is right down the street.  So, go to Square One Brewery, enjoy the fun atmosphere of Lafayette Square, try a vodka tonic or the Spicy Blonde is a safe choice, but definitely order the food!
Side note:  Only 3 different types of beer were consumed –  1/3 was enjoyed…to be fair, these aren't bad odds and I recommend you experiment a bit with their beers at events such as the August Bottoms Beer Festival www.augustabottomsbeerfest.com or even Square One's  Happy Hours where you can save a little and sample a lot!