"If food is the bane of our existence, then good food is the reward for our struggle to survive."…as quoted from the book The Greening, a work-in-progress by reclusive author, Benjamin Troll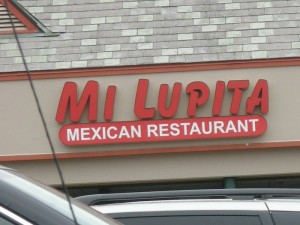 Looking for good Mexican food restaurant in St. Louis County? There are many to choose from, and a few notable Mexican restaurants have repeat clientele because the food is very good. One such Mexican restaurant is Mi Lupita's which can be found In Ballwin, MO on Manchester. And in Fenton, MO on Main Street. The food is simply addictive, particularly if you are a connoisseur of Mexican dishes, cooked like your Mexican grandmother would prepare, if you have or had access to a Mexican grandmother who prides herself as an authentic Mexican cook–most do. So do partake in as many selections as your hunger will alllow. My recommendation is to go for the combination plates because you can select three entries–from basic Tacos, Burritos, Flautas, etc. Everyone has their favorite Mexican dish, and Mi Lupita's will present you with their version and you will be pleased. Pleased enough to become repeat customers. And when you become a repeat customer you will invariably meet the co-owner, Jose Campos–who will recognize you from your previous visit, and remember your drink, and make you feel like old friends who are always welcome to enjoy truly Mexican cuisine.
If you're ready for authentic Mexican food cooked by Mexican cooks who actually know the difference between Huevos Rancheros con Queso, y Chile Verde con Frijoles Refritos con Sopapillas. Bring the family and enjoy great food in a family owned and operated Mexican restaurant. Enjoy Mi Lupita's. It's worth the visit. And you'll find that on your tenth visit you gain a perspective of why you love Mexican food.