Check out STREETBALLERS, a St. Louis Film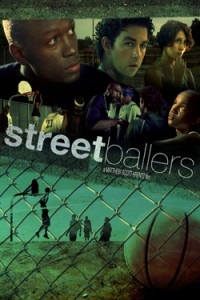 Streetballers is an Irish-Urban drama exploring the lives of two junior-college basketball players and their struggles within a divided city, broken homes, and the demands of collegiate-level athletics. Both players are drawn into an underground world of gambling and crime on the courts of the city's tough Northside.
Constantly searching for sanity in the midst of alcoholism, racism, and drugs, John Hogan and Jacob Whitmore find release and therapy while competing on one of the most competitive street courts in the U.S. Both men must spend an entire summer helping one another overcome adversity. Their dedication and love for the game of basketball transcend the playground courts and carry over into each of their dysfunctional households, where the two boys play the constant role of the father figure.
Pounding through life one day at a time, Jacob has no choice but to play in an underground league, constantly fighting to keep his cousin Damon out of debt and possible death. John's overpowering guilt and family trauma erupt into a state of beautiful confusion with each spiritual intervention by Terry Gibson, a neighborhood boy killed in a drunk-driving accident.
Together, the two boys paint a sad yet hopeful portrait with their innocence, concerns, and faith in the unknown.

The director of the film, Matthew Scott Krentz, developed the project from two loves: "playing ball and telling stories." STREETBALLERS is the result of the last five years of developing these passions into film. Krentz says that the story comes from his experiences – "things I'd lived, and things I'd heard about in the bars, on the courts, and on the streets where the movie is filmed" he says.
For those of us who live in St. Louis, another great part of the film is the scenery. The majority of basketball games in the film take place on courts in Richmond Heights. Krentz says that he wrote the film "with only St. Louis locations in mind." He not only used the city of St.Louis – but he also filmed real basketball players. This is part of what keeps the authenticity consistent throughout the film. "For Streetballers, St. Louis City – its streets and courts – gave us the feel this film needed. With its fresh story, the city locations, and its cast of real characters, this is a one-of-a-kind, independent sports film," says the director.
Watch the HD Trailer Below

To learn more about STREETBALLERS, visit the official website at streetballersthemovie.com