Restaurant Review – KitchenK
Located in the snazzy Washington Ave. area, KitchenK is a hip and upscale restaurant at lowscale prices.  For $25 a person KitchenK offers a three course menu – for just $32 you receive your three course meal with a beer pairing and for $35 you get a wine pairing instead.  Choose your appetizer, entree and dessert.  What a deal!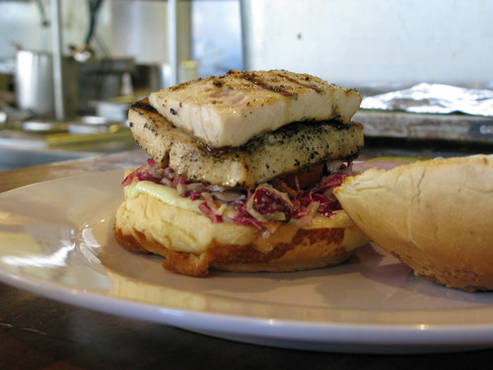 See, low-scale prices!  KitchenK has a large menu with various options;  for the picky eater an everyday cheeseburger and for the person willing to branch out, Mahi Fish Tacos.  On my visit we started with their Chips n Dips which includedsalsa, guacamole and some AMAZING black bean hummus to dip into.  I'm not a big hummus person, but I practically licked the ramekin this dip was served in…it was that good. 
I then scarfed down the Maui Mahi Sandwich.  Not my normal kind of selection, but the server talked the sandwich up so much it swayed me from my original choice, which was the Steak Sandwich.  I needed a meal that would soak up my alcohol intake throughout the night.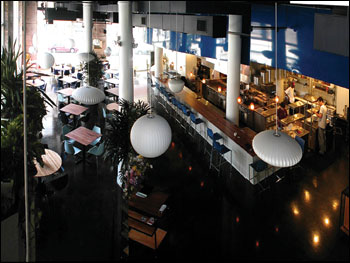 I visited KitchenK for a Bachelorette Party and they were able to cater to a party of close to 25, on a Saturday night, with no long waits for cocktail refills!   The drinks were flowing all night, from martinis to draft to some mighty fine wine.
Not only was the atmosphere fun and energetic for a group of 25 twenty-year-old women, but the dining experience was 5 star.  I have never been served a sandwich with such beautiful presentation as my Maui Mahi sandwich.  Everyone at the table was raving about their dinner, especially my friend who ordered the Baja Chicken Enchilada.  If you're craving Mexican, Italian, American or Asian, KitchenK has something for every taste-bud.
Don't wait for your friend to get hitched to try KitchenK, it's a great place to start your night on Washington Ave.  With Side Bar, The Dubliner and Lucas Park just down the road, you can dine at KitchenK and get your drink on all over the place.  Visit www.kitchen-k.com for more information.