Restaurant Review – Ice Kitchen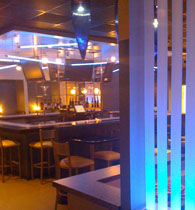 Westport's Ice Kitchen is brought to you by the owners of the Drunken Fish.  Ice Kitchen is considered a tapas bar.  Tapas are just a fancy Spanish word for an appetizer/snack portion.  Usually with tapas you pay an arm and a leg for a serving too small to fill you up.  Unfortunately, I don't know if this is the case with the Ice Kitchen – but I imagine so.
I made a lunch visit to the restaurant, and we were the only couple in there, so what we ordered were the only plates to be seen.  I knew, from past experience, that tapas weren't filling and I was starving.  So, in lieu of tapas I ordered the Ice Kitchen Burger.  This was probably one of the best burgers I have ever had.  With the exception of being cooked more well then the medium I had requested, the burger was very tender and cooked with truffle oil.  Bacon, cheese and the other items topped this burger off.  Another great addition was the Ice Kitchen's homemade ketchup – which included an extra bit of tang.  Not only was the food good, but the presentation was very nice.  A gourmet spin on a casual burger is always a nice touch.
The Ice Kitchen also had a great You Pick Two  lunch special for $11.  This includes your choice of two of the following; soup or salad, and a sandwich or pasta.  There were a variety of soup and sandwich options – so you could easily find a filling and affordable lunch.
I plan to go back to the Ice Kitchen during dinner someday, because the atmosphere is a lot of fun, with bright blue lights and white cushioned chairs.  It almost has a diner appeal, but with a lot of liquor.  The drink menu was very extensive, including something for all – from martinis to wines to mixed drinks.  The bar was fully stocked with more varieties of vodka than one person could ever drink.  There are also evenings with live entertainment and events.
The Ice Kitchen is a fun addition for Westport Plaza.  Another great place to grab a bite to eat and a drink before a show at the Funny Bone.  Also a place to fill that sushi craving or enjoy an office lunch.  Just remember, tapas are SMALL.  So, if you're pretty hungry and you don't want to spend a lot for 1 chicken wing or 1 sushi roll then go for an entree.  It may cost a little more, but it will actually fill you up.
Visit http://www.drunkenfish.com for hours and directions.  Grab a group of friends and get ready for some great drinks and even better food!