Restaurant Review – Bar Louie in Kirkwood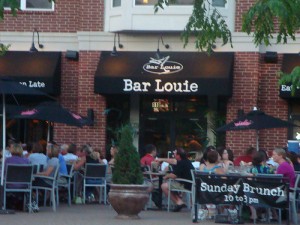 Bar Louie in Kirkwood is a great place to grab a draft beer or snazzy martini and watch the Cardinals kick some butt, socialize with friends or people watch on the patio. I must say, my food expertise at this restaurant is pretty narrow – as I usually order something from the appetizer menu. But, think back to your favorite side dish from the elementary school cafeteria way back when. Are you thinking about it? Chances are, like me, you can remember getting a rectangular slice of pizza with tater tots on the side. Bar Louie does one better, they load their tater tots up with queso, bacon, giardiniera (pickled peppers and carrots) and scallions. The unhealthiest thing in the world but also the one menu item I crave! And they apparently had a tot eating contest recently…disgustingly intriguing.
Visit during happy hour and all appetizers are half price. See why I usually get an app? But feel free to branch out, because they have a huge menu. Here's a breakdown of some of my friend's and my favorite items from each section of the menu: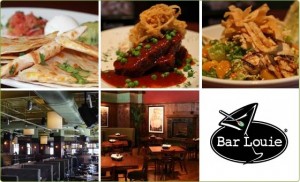 Appetizer – Loaded Tater Tots
Salad – BBQ Chicken
Burgers – pick your own, they all sound awesome!
Sandwiches – California Chicken Club
Pizza – Buffalo Chicken or the White Louie
Large Plates – Mac & Cheese (it's gourmet!)
Dessertinis – are you kidding me? I'm stuffed by this point
They also have a great brunch menu on Sundays, which includes a complimentary Bloody Mary to cure your hangover, as well as mini donuts. Be sure to try one of their many martinis – ranging from fruity, to chocolaty to knock you on your ass. And, if you want amazing service, ask for Shelley, she's the best they've got (I may be partial, she's my best friend)!
Visit restaurants-america.com/barlouie for directions to the Kirkwood location or the Central West End location.