Remembering Sylvester Stallone in the 90s – 'Demolition Man' and 'Judge Dredd'
In honor of Sylvester Stallone's action packed "The Expendables" coming out the summer, I've decided to take a look back at some of Stallone's most famous action flicks of the 90s.
Watch the new HD trailer for "The Expendables" here.
It is crazy to think that these movies were over a decade and a half ago.  If you were anything like me, these were frequent visitors of your VCR when you were younger. If you wanted to just sit back and watch a mindless action flick, these two were some of your options.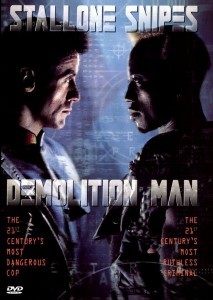 Demolition Man (1993)
Starring: Sylvester Stallone, Wesley Snipes, Sandra Bullock, Nigel Hawthorne, Benjamin Bratt
Los Angeles, 2018. After being wrongly imprisoned for a series of murders, a cop is released from a cryogenic jail in order to join the hunt for the real killer.
---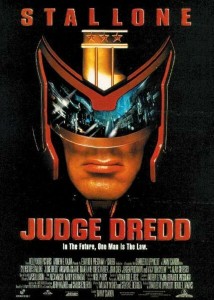 Judge Dredd (1995)
Starring: Sylvester Stallone, Armand Assante, Rob Schneider, Jurgen Prochnow, Max von Sydow
Judge Dredd is a legendary futuristic lawman renowned for his iron-fisted procedures. When Dredd is framed for murder by his enigmatic arch-rival, the entire planet finds itself on a deadly collision course which only the fearless judge can alter. Engineering a dramatic escape from the shuttle carrying him to his space imprisonment, Dredd sets out on a dangerous mission to stop the perpetrator from taking control and in the process discovers a startling secret about his own origins.
Check out some of the posters from the upcoming action flick "The Expendables."
What do you remember about these movies? How do they hold up today? Leave a comment below!