Remember Me – Movie Review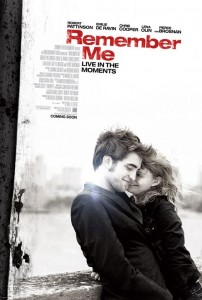 Robert Pattinson of Twilight fame tackles a more earthly romance in the new film Remember Me.  He of the permanent bed-head plays Tyler Hawkins, a tormented, trust fund living, literature-loving, rebel without a comb.  When Tyler and his best friend/roommate Aidan (Tate Ellington) get roughed up outside a bar by a gruff police officer (Chris Cooper), they decide to exact their revenge by having Tyler seduce the officer's daughter Ally (Emilie de Ravin), who just happens to be fellow NYU student.  But their plan goes awry when she turns out to be the sort of quirky-cute girl that orders dessert for an appetizer.  Sigh.  [morelink]
Both Tyler and Ally have their own angst-ridden back-story.   He has an emotionally distant, high-powered attorney for a father and an older brother who committed suicide whereas she witnessed her own mother's murder at the age of eleven.  The film basically exists to allow Tyler to pensively brood whilst Ally gazes lovingly at him.  He repeatedly shuns his family's wealth while slumming it in a rough neighborhood and stocking shelves and independent bookstore.  It's the sort of rejection of materialism that only the offspring of the truly wealthy are ever fortunate enough to partake in.  All this is meant to make Tyler look like a modern-day Holden Caulfield only dreamy.  But more often than not he ends up looking like a bit of a brat.
The movie does have flashes of wit though it's never a full-on romantic-comedy.  Aidan offers some much needed moments of levity and Tyler's little sister, played by Nurse Jackie's Ruby Jerins gives a strong performance.  Unfortunately the movie has a flat affect throughout.  It's blandly ineffectual; never rising to the level [of] truly horrible but never quite fully connecting either.
And then there's the ending.  I will do my best to keep the review spoiler free but you've been warned.  The film takes a sudden left turn at the end and while the groundwork for the twist is laid early, it turns the film into a weird sort of Nicholas Sparks meets M. Night Shyamalan hybrid.  Like a cheap parlor trick, the conclusion is grafted on to the final ten minutes in an effort to create emotional resonance in a story that was otherwise lacking.  Co-opting actual tragedy in a shameless attempt to bolster their own, it's a finale that's as likely to offend you as it is to move you.
On a scale of 1 to 10, with 10 being The Notebook and 1 being Autumn in New York, Remember Me gets a 5.