Reboot Mania: National Lampoon's Vacation Series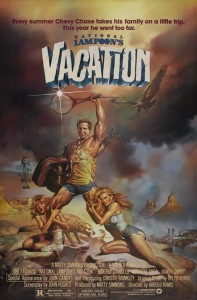 The madness continues! New Line Cinema is "rebooting" or updating the Vacation series made famous by Chevy Chase. David Dobkin who brought you Wedding Crashers will be in charge of the film.
So far the reports are that the films will center around Clark's son, Rusty Griswold, and his family's adventures (or misadventures). The style will be somewhat closer to Planes, Trains, and Automobiles than the last few films apparently. Chevy Chase and Beverly D'Angelo have been signed on to three pictures deals as well.  The duo actually just reprised their roles of Clark and Ellen Griswold in a 14 minute short film for HomeAway.
It will be interesting to see if they go after actor Anthony Michael Hall who played Rusty in the original Vacation. The actor recently appeared in an episode of Community with one time on screen dad Chevy Chase, and it makes you wonder Chase will recommend him for the role.
Regardless I'm a bit unsure about this. This is a reboot and sequel all mixed into one, and it makes me a little nervous. There have been a lot of films spawned out of the Vacation series, and the majority of them were not good. I'm just wondering if you can capture that kind of magic again, especially without a charismatic actor like Chevy Chase in the lead. What do you think? Is this a worthy reboot?
Watch the HomeAway Mini-Movie Below: