Quincy Jones and Over 75 Stars Sing "We Are The World" 25 Years Later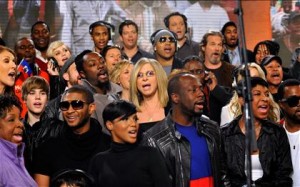 Quincy Jones, who produced the charity recording of "We Are the World" 25 years ago, announced last week that he would re-record the song.  Profits raised from the new song will benefit Hait's recovery from the deadly earthquake from last month.
Two days ago, over 75 celebrities gathered to record a 2010 version of the song – including: Akon, Barbra Streisand, Celine Dion, Jeff Bridges, Jennifer Hudson, the Jonas Brothers, Kanye West, Natalie Cole, Pink, Tony Bennett, Usher, Vince Vaughn, Will I Am and many others. It has been reported that Lil' Wayne was chosen to cover Bob Dylan's part in the original recording.  His response was, "…are you kidding?" and "…I don't know how to sing." The rapper says that he had Haitian friends who lost relatives in the disaster.
The original charity recording, written by Michael Jackson and Lionel Richie,  raised over $30 million help raise awareness and fight poverty in Africa.
The song is set for release at the Winter Olympics coming up, but be on the lookout for a leak that is sure to surface.