Quentin Tarantino presents 'The Man With the Iron Fists' Opening November 2! Win a Pass to See The Movie!
Enter to win a pass good for two!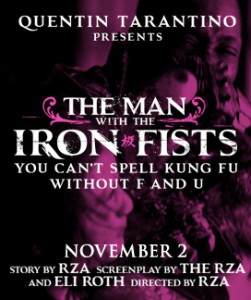 Quentin Tarantino presents The Man With the Iron Fists, an action-adventure inspired by kung-fu classics as interpreted by his longtime collaborators RZA and Eli Roth. Making his debut as a big-screen director, co-writer and leading man, RZA–alongside an exciting international cast led by Russell Crowe and Lucy Liu–tells the epic story of warriors, assassins and a lone outsider hero who all descend on one fabled village in China for a winner-takes-all battle for a fortune in gold. Blending astonishing martial-arts sequences from some of the masters of this world with the signature vision he brings as the leader of the Wu-Tang Clan and as one of hip-hop's most dominant figures of the past two decades, RZA embarks upon his most ambitious, stylized and thrilling project to date.
The Man With the Iron Fists is Rated R for bloody violence, strong sexuality, language and brief drug use.
Writers: Russell Crowe, RZA, Lucy Liu, Rick Yune, Jamie Chung, Cung Le, Dave Bautista, Byron Mann, Daniel Wu, Pam Grier
Director: RZA
In order to enter the contest, become a fan of ReviewSTL on Facebook and share ReviewSTL.com with all your friends (click the "share" link on the bottom-left side of the page) and tell us why you want to see the movie on the page below! Then "like" the post to complete your entry. NO PURCHASE NECESSARY. While supplies last. Passes are available on a first-come, first-served basis.
Winners will be chosen at random from all entries. Supplies are limited. Limit one (1) pass per person, passes admit (2) two. Sponsor's employees and their dependents are ineligible
Winners will receive a pass valid for the run of engagement, good for two seats.
Good luck! We hope to see you at the movies!
The Man With the Iron Fists Opens November 2