Review: Disney's 'Wreck-It Ralph' A Smash Hit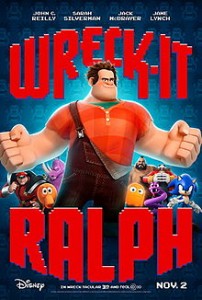 I wasn't a big Disney fan growing up.
My friends tease me mercilessly about the fact that I've only seen four animated Disney movies (not counting the Pixar films; I've seen most of those), but I was just never really into them. Yes, I watched cartoons as a kid, but watching movies, I was able to watch pretty much any movie I wanted. I grew up on Terminator 2 and Aliens. For some reason, though, as I've gotten older, I've come to appreciate the CG films as an art medium. I loved Up and Wall-E; Despicable Me has minions!
On the other hand, I was and always have been an avid gamer. I spent hours at my friend Kate's house playing games like Super Mario Bros., Duck Hunt, and World Series Baseball. I got a Sega Genesis when I was a wee little one and mastered every game I got for it. I could beat Mortal Kombat with every character. I had a birthday party at Aladdin's Palace (shows how old I'm getting). Then I got my first computer, and I've been going full throttle ever since. I'm actually typing this on my Alienware laptop after a few solid hours of Fallout: New Vegas. Needless to say, when I heard the premise of a Disney movie revolving around video game characters, I was happier than…someone who's not happy. I'm too tired to be creative. I'm ecstatic, though, that Wreck-It Ralph delivered the goods.
Ralph (John C. Reilly) has had the same job for the last 30 years: destroying the same building that Fix-It Felix, Jr. (Jack McBrayer) always fixes. After the arcade closes and the kids leave, the characters in the game go back into their apartments, while Felix heads to his penthouse suite.
Ralph? Well, he's forced to live in the landfill, sleeping on a pile of rubble. When he sees the tenants throwing a 30-year anniversary party for Felix, Ralph is upset he's not invited. Crashing the party, he's disheartened when the residents tell him he'll never get to live in with them because he's the bad guy. Determined to change their perceptions of him, he goes off to prove he's a good guy.
How's he do this? Well, he travels to Game Central Station, where all the characters from the arcade's games can meet and interact. And this is where the movie absolutely shines. Anyone who played video games in the 80's and 90's will recognize dozens of game characters. The bad guys even have a support group called Bad-Anon where the characters people loved to hate convene and offer each other words of encouragement. Dr. Robotnik, Bowser, Kano; seeing them is certain to induce a moment of nostalgia for the audience. Although the other bad guys try to convince Ralph to simply accept the fact that he is bad, Ralph decides to go "turbo," entering the first-person shooter Hero's Duty to earn a medal and prove he's a hero.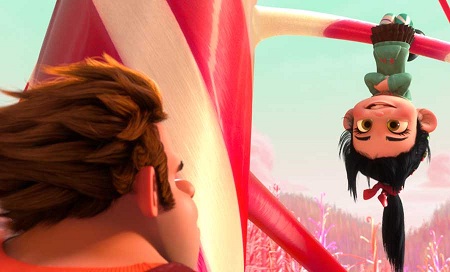 Unfortunately for him, one of the protagonists of the game, Calhoun (Jane Lynch), has zero tolerance for his antics and tries to get him to go back to his game. Meanwhile, in Fix-it Felix, Jr., the game starts going awry when there's no villain to demolish the building. When a girl complains to the arcade owner, he shuts the game down and explains that if the game's not working in the morning, he'll have to have the game removed from the arcade. Determined to keep the game alive, Felix travels to the perilous land of Hero's Duty…
…only to discover Ralph has escaped, medal in hand, to a kid's racing game called Sugar Rush, where he encounters a glitch named Vanellope (Sarah Silverman). Although she antagonizes him at first by stealing his medal, she convinces him to help her get into the race so she can finally prove she belongs in the game. Desperate to earn approval, Ralph agrees, not knowing he's opened a door that could well lead to the destruction not only of his game, but several others in the arcade.
It's not always the case that a family can sit down and truly enjoy a movie together. Watching movies geared towards children and a family audience, I've found myself cringing and being bored by some of the humor, while obviously children aren't generally encouraged to watch films with more adult themes. Somehow, though, Pixar has managed to perfect the movie-making formula to ensure kids and their parents can find something to enjoy in their films. The kids love the characters and silly jokes, while the parents and older audience can appreciate some of the pop-culture references and tongue-in-cheek humor that might go over a child's head. The first half of Wreck-It Ralph is a pinnacle achievement in this, incorporating classic game characters but never overwhelming the screen with them.
Thirsty? Head on over to Tapper. Need to put out a PSA that'll reach everyone at Game Central Hub? Get Sonic the Hedgehog to do it. It's just incredible. As my friend Nick pointed out, it'd be worth it to watch this on DVD/Blu-Ray just to pause the film at the Game Central Hub to point out all the game characters you recognize.
Credit has to be given to the voice actors, who give excellent performances. There's never a lull, and you get the impression that they truly had a lot of fun recording this movie. The animation is slick and gorgeous. The film's in 3D, but don't be turned off by that if you're not a fan of 3D. Kat made a valid point after the film that the 3D enhances some scenes, but it wasn't really distracting or overpowering.
If there's any gripe I had with the film, it's that the second half slows down considerably and returns to the familiar heart-pulling formula prevalent in other children's movies. The second half certainly has its funny and touching moments (at one point, Kat was openly wiping her eyes, and she wasn't alone; I noticed several other audience members doing the same), as well as a plot twist many in the audience won't expect, but by the end you can pretty much see what's coming.
Wreck-It Ralph could well be the best children's movie of the year, and I get the feeling the audience most excited to see it will belong to a slightly older demographic. Walking out of the theater, the audience was dominated by adults, many in their mid-to-late 20's, as my friends and I are.
I also have to mention the short film that plays before Ralph, Paperman. A mixture of CGI and hand-drawn cells, Paperman is a slick seven-minute short story about two strangers who randomly meet and the lengths to which one will go for just another moment with that person. The score by Christophe Beck, one of the seminal modern-day movie score composers, is gorgeous and fits the story perfectly.
In terms of story-telling and conclusion, Wreck-It Ralph likely won't become an instant classic, as other Disney/Pixar movies have done in years past. Still, the lead-in is amazing, and for those of us who played the games back in the day, it's likely to evoke a feeling of nostalgia, much like Back to the Future did a generation ago for those who grew up in the 50's. Be warned, you may be tempted to go back and plug in that old game system or to get online and download an emulator. Now if you'll excuse me, Double Dragon is calling my name.
Wreck-it Ralph gets a B+/A-.