PROJECT X Opens March 2! Enter to Win Passes to the St. Louis Advance Screening!
Enter to win a pass good for two!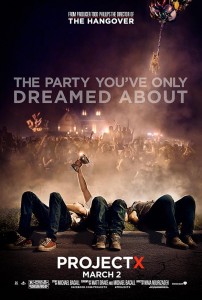 "Project X" follows three seemingly anonymous high school seniors as they attempt to finally make a name for themselves. Their idea is innocent enough: let's throw a party that no one will forget… but nothing could prepare them for this party. Word spreads quickly as dreams are ruined, records are blemished and legends are born. "Project X" is a warning to parents and police everywhere. This film has been rated R for crude and sexual content throughout, nudity, drugs, drinking, pervasive language, reckless behavior and mayhem-all involving teens.
Cast: Thomas Mann, Oliver Cooper, Jonathan Daniel Brown
Director: Nima Nourizadeh
In order to enter the contest, become a fan of ReviewSTL on Facebook and share ReviewSTL.com with all your friends (click the "share" link on the bottom-left side of the page) – telling why you can't wait to see the movie! Then "like" the post to complete your entry. NO PURCHASE NECESSARY. While supplies last. Passes are available on a first-come, first-served basis.
One pass (each admits two) per person. Theater is overbooked to ensure capacity. Employees of participating sponsors are ineligible.
Screening is Tuesday, February 28 at Wehrenberg Ronnie's 20 Cine (7pm).
Good luck! We hope to see you at the movies!
IN THEATERS MARCH 2