Production Starts For Warren Ellis' 'Red'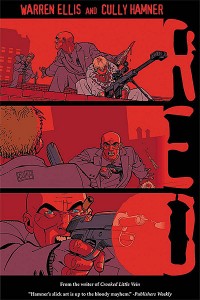 Principal photography has started in Toronto for Summit Entertainment's adaptation of the Warren Ellis' DC Comics published tale, Red. Red tells the story of a black-ops operative, Frank Moses, as he has to come out of retirement due to an assassin to who is trying to kill him and those around him. He must put together his old team to take down the people who want him dead.
The film should be a pretty star studded affair with Bruce Willis, Helen Mirren, Morgan Freeman, Brian Cox, Karl Urban, John Malkovich, Richard Dreyfuss, Ernest Borgnine, Julian McMahon, and Rebbeca Pidgeon. That enough stars for you? The film is directed by Robert Schwentke (Flightplan), with a screenplay from Erich Hoeber and Jon Hoeber (Whiteout).
As happy as I am to see a Warren Ellis comic be adapted for the screen, it is probably one of my least favorite. Although, it is an easier tale for mass consumption than his truly great works like Planetary and Transmetropolitan. What worries me the most about this project is the behind the camera talent. There is no doubt that talent here seems to be front loaded. One of the worst films of last year was a thriller based on a graphic novel, Whiteout, and it worries that it is the same writers who are adapting Red. I make no final judgements until I see the final project, but I hope it is good. (Oh, and bring on any other Ellis project you can Hollywood, how about finally making Global Frequency?)