Priorities
People often ask: why do people get so wrapped up in sports? After all, it's just a game; it doesn't really have any effect on real life. There are people dying/starving/suffering, etc., while we fuss over a contest.
Perhaps it's the competition itself, the emotions that get tied into the outcome of the game. Maybe it's the camaraderie that I feel when I see fellow supporters for the teams I love.
At times, I get tied up in the game. At times, I forget how insignificant the outcome is.
Granted, I'll still never marry a Cubs fan. But, that's beside the point.
One of the things I truly cherish about sports is that at times, there are moments that are so superlative, so transcendental that I cannot help but be in awe of what can happen when long-standing "hatred" can be set aside for the betterment of all.
There's Mallory Holtman and Liz Wallace, whom I've written about before. Softball players for Central Washington, they were playing against Western Oregon when Western's Sara Tucholsky hit her first (and only) career home run but tore her ACL after running past first. Unable to circle the bases on her own, Holtman and Wallace picked her up and carried her around the bases, allowing her to touch each base. The home run ended up being the difference in the game.
You can read more about that story here. If you haven't heard about this, I strongly suggest you do so.
There's Jason McElwain, an autistic teenager who was team manager for his high school's varsity basketball team. His senior year, the coach let him suit up for senior night. With four minutes left in the game, Jason got the chance to go in. He responded by hitting six three-pointers and 20 points in all, finishing as the game's high scorer. See his story here.
There's the 1970 Marshall University Thundering Herd football team which was decimated by a plane crash, leaving most of its members and coaching staff dead. Now immortalized in the film We Are Marshall, the school regrouped to play the 1971 season with freshman and recruits from other sports. A small sidenote in the film, Bobby Bowden, who was head coach of West Virginia (the other major football program in the state), not only allowed Marshall's coaching staff to look over playbooks and gametape, he had his team place green crosses and MU on the back of its helmets. He even petitioned the NCAA to let his Mountaineers wear Marshall's uniforms and play their final game of the 1970 season.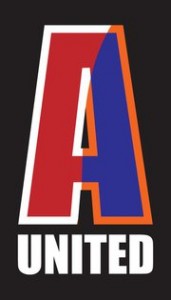 And now we have the devastation that tornadoes have wrought all across the south. Over 300 people are confirmed dead, and entire counties are in ruins. One of the hardest hit counties was Tuscaloosa, Alabama, home to the University of Alabama Crimson Tide. Anyone who's watched the news has seen the destruction; Bryant Stadium, home of the Tide football team, very narrowly escaped total destruction.
Alabama has a long-running, often bitter, rivalry with Auburn University. This past season, after Auburn came from behind and defeated Alabama en route to winning the national championship, a zealous Tide fan poisoned the trees at Toomer's Corner, considered a sacred place for Auburn students and fans (the trees have been there for over 130 years; after huge wins, the students run and toss toilet paper all over the trees). In a classy move, Alabama fans denounced the act and raised over $30,000 to aid in the recovery process.
Now, it's Auburn's turn. Setting aside their rivalry, Auburn is one of six universities around the nation that has reached out to Alabama to volunteer in the rebuilding process. Auburn fans have created a facebook page called Toomer's for Tuscaloosa calling for volunteers to help in the reconstruction process; so far, 65,000 people have joined.
Feedback has been overwhelmingly positive. Some trolls have taken to the internet to decry one rival helping out another, but most people have common sense. When it comes down to it, sports are a matter of pride; this effort is something both sides have a right to be proud of.
At times, it isn't easy to put aside your emotions. I carry the losses by my sports teams for days at times. To see that people are able to set aside their team loyalties and help out, well, it gives me pause. In an absurd world where everyone talked about the $70 million-plus royal wedding for days, it's good to remember every now and then that sports and the associated rivalries aren't necessarily an impediment to growth; in fact, they can sometimes be the hope that we need.
To find out more about helping with the recovery process, check out Toomer's for Tuscaloosa or the Red Cross website.