Princess Ka'iulani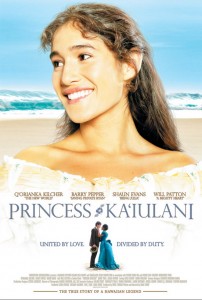 We didn't just steal land from the Indians, America also had boats and it wasn't long before we discovered the Samoan paradise of Hawaii and felt the need to bring democracy to the small Island. "Princess Ka'iulani" tells the true story of how an educated young woman fought soldiers, profiteers and politicians in an attempt to save the independence and culture of her island.
Princess Ka'iulani (Q'orianka Kilcher) a child educated in England and heir to the throne of Hawaii, is thrust into the middle of the skirmish as her mother is imprisoned when the American business men come to the Island to colonize and bring Democracy. The American forces lead by Sanford Dole (Will Patton) and his partner Thurston (Barry Pepper) and have support of the United States government, what is a Samoan girl to do?
Princess Ka'iulani returns to her island to defend its people and culture and even persuades an outgoing president Grover Cleveland to help her. Unfortunately her timing is poor as incoming president McKinley supports Thurston's group.
Director Marc Forby (Prom Night) shows us in "Princess Ka'iulani" that Hawaii wasn't always the tourist destination we know, that one time it was a pristine paradise untouched by the modern world.  Unfortunately the movie feels like a flight to Hawaii, long and boring….and there is no lei at the payoff!
The story drags on and on to a climactic dinner party, ye s dinner party. The second biggest crime next to the poor script/dialogue is that you don't see enough of Hawaii! You get a better glance at the island in an episode of "Lost"! If you are a history buff I would recommend you wait for this one to hit the DVD shelves, otherwise avoid this snoozer version of the history of Hawaii's princess of Honolulu.
I am Karl the Flick Fanatic, craving pineapple for some reason now that Princess Ka'iulani is a wrap!
Rated PG (violence, language)
Running time: 130 min.