Preview: Wrestlemania 34 Sunday on WWE Network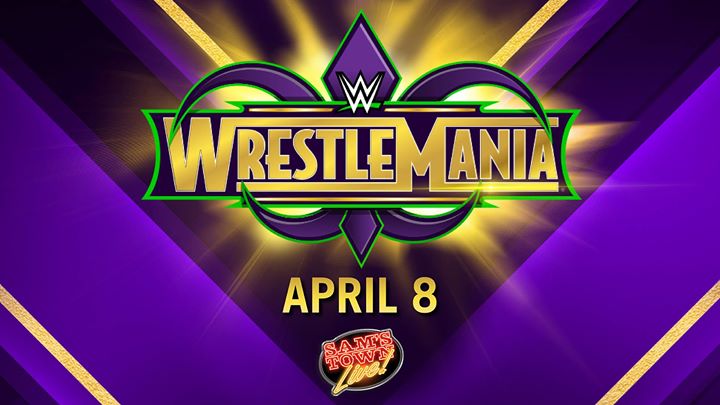 The show of all shows for wrestling fans is occurring Sunday, live from the Superdome in New Orleans. For the WWE, Wrestlemania is the culmination of a year of storylines. It's the WWE's Super Bowl. This will be my third Wrestlemania that I am able to attend and I can honestly say, I'm pretty stoked for the event to return to New Orleans, which was the site of Mania 30, where Daniel Bryan and the Yes! Chant took over an entire city. Keep watch on Reviewstl.com, as I will try to do daily updates of my Wrestlemania Experience, but for now, here are my predictions for the matches.
Universal Championship- Brock Lesnar (c) vs. Roman Reigns: This match has been a year in the making. Reigns won the elimination chamber match to gain a spot in the main event. Despite improving on the mic and in the ring, Reigns is continually booed by fans. With rumors swirling around Lesnar jumping ship to the UFC, are his days as the champ numbered? Lesnar doesn't do himself any favors with the WWE Universe by only working a handful of events a year, but that is the deal the WWE signed with him. The lead up to the match has been pretty predictable, with the exception of Lesnar not showing for a couple Raw episodes. We still don't know for sure if this was scripted or reality. I tend to think it was a bit of both worlds. I am going against the grain here and picking Lesnar to retain, but drop the belt the next night on Raw. I just think that Braun Strowman will be the next WWE Champion, at least I hope so.
WWE Championship-AJ Styles (c) vs. Shinsuke Nakamura: Nakamura gained a title shot by winning the Royal Rumble. This is a match that the Masses want to see and rightfully so, both are considered two of the top guys in the business. Styles is this era's Shawn Michaels and maybe even better than HBK. Nakamura, on the other hand, doesn't excite me. He has a catchy entrance, but besides that, I feel he's bad on the mic and just don't care for his character. I take a lot of heat for my opinion, but it is what it is. My prediction: Nakamura wins the title. Styles is rumored to be injured and may need some time off, plus, WWE has been building Nakamura for a while now. It just makes sense.
Ronda Rousey & Kurt Angle vs. Stephanie McMahon & Triple H: I wish the original plans of The Rock joining Rousey would have happened, but nonetheless, we get Angle. I literally wince in pain when I see Angle walk. As someone with a spine issues, I feel Kurt's pain. He shouldn't be in a ring anymore, but I doubt he takes much punishment in this match. Triple H is the consamate professional, but this match will be all about Rousey. Fans will be watching her every move. My prediction in this match is Rousey and Angle win. I'd bet everything I had on this. Rousey is the next big thing in WWE. It's rumored she will headline next years mania in New York, so fans better settle in for a lot more of the Baddest Woman on the Planet.
Daniel Bryan & Shane McMahon vs. Kevin Owens and Sami Zayn: I love Owens, but can we end his friendship or feud with Sami? The entire WWE Universe is sick of these two being together every week. They aren't bad at all, but the storyline has run its course. I'm excited to see Bryan back in the ring. It's fitting he returns in the city where he headlined Wrestlemania 30. In my 30 years as a wrestling fan, I've never seen a guy as over with the fans as Bryan. He is a treasure to watch. I am picking Owens and Zayn to win, as McMahon's status, or at least what he can do is in question. He is battling diverticulitis, which is nothing to take lightly.
Raw Women's Championship-Alexa Bliss (c) vs. Nia Jax: Bliss has proven she is one of the top females in the business. I almost hate to see her lose the title. She is an excellent villain, teasing Jax about her weight and just having that smirk on her face that she is better than everyone else. Jax has been surprising, as her in ring skills have improved. I'm going with Bliss to retain, but wouldn't be shocked if Jax walks out with the belt.
Intercontinental Championship-The Miz (c) vs. Seth Rollins vs. Finn Balor: The title will change hands here, as I look for The Miz to take some time off. Before getting to my prediction, I will say the Miz is the best heel in all of wrestling. His mic work is top notch and his in ring work is no joke either, but the man needs some time at home with his new baby. That being said, Seth Rollins winning this makes sense. I've been waiting for a Rollins heel turn for a while. I don't think he is over as a face. I could also see Finn take a turn to the dark side and would welcome it. Balor hasn't gotten a great push from WWE since his shoulder injury. Maybe a move to Smackdown could help him. Rollins walks out of the Big Easy with the title.
United States Championship-Randy Orton (c) vs. Bobby Roode vs. Jinder Mahal vs. Rusev: Rusev winning the title here is almost too predictable, yet I will go with it. Orton as a face, just isn't his style. I love Orton and the RKO is probably my favorite finisher in all of wrestling, but has he reached Cena-status, where he can just show up occasionally and put younger guys over? Time will tell with that one, but I fully expect Rusev to win. Jinder Mahal will be an afterthought, but he has done an admirable job as the champion and heel. Roode is the wild card here to me. I love Roode, mainly because his entrance is the best in all of wrestling, but I can see WWE burying him. I hope I'm wrong, but the company has done it before.
SmackDown Tag Team Championship-The Usos (c) vs The New Day vs. The Bludgeon Brothers: The Usos and New Day have had some classic bouts and I am expecting this matchup to be no different. Throw in The Bludgeon Brothers and the physicality of this match just amped up. There will be a title change here and I'm expecting the Bludgeon Brothers to walk out champs, but it will be at the cost of New Day and Usos putting on one hell of a show.
Raw Tag Team Championship-The Bar (c) vs. Braun Strowman & TBD: Let me start by saying this is so stupid. This is just plain lazy booking by WWE. Strowman is a fan favorite and should be in the title picture, but instead he was thrown in this match. I don't even want to guess who a partner could be because it doesn't matter. If I'm Cesaro and Sheamus, I'd be pissed at the lazy booking for a good tag team. Hopefully The Bar retains.
Other matches on the card: The Cruiserweight Title is up for grabs between Cedric Alexander and Mustafa Ali. I honestly don't care about this match, that's why it will most likely be on the pre-show. I'll take Alexander to win the title basically because I know who he is.
The Andre the Giant Battle Royal is a complete joke. As of now we know that Dolph Ziggler, Matt Hardy, The Revival, Mojo Rawley, Baron Corbin, Tye Dillinger and Breezango are in. I could see Rawley winning again, just because he can't win anything else. I am hoping Strowman goes nuts and destroys every team and breaks the trophy in half on his way out. That would be a way to fire up the Superdome.
John Cena vs. Undertaker: Yes, this is an unneeded match, yet the WWE continues to play with the minds of its fans. Is Taker going to show up or not? Many expected The Phenom to show up on Raw and he did not. Cena continued to take shots at Taker, saying he left his balls at home. Apparently the match is still happening, but Taker won't appear until Mania. WWE feels the Mania card is loaded enough that they do not have to promote this match. I see their point, but I also feel that by not promoting the match, it gives us a feeling of this match doesn't matter. Both stars are past their prime and Taker is 53 years old and has not wrestled a quality match in 5 years. I'm almost guaranteeing Taker comes out as the American Bad Ass, as the WWE Universe saw the Deadman character buried by Roman Reigns at last year's Mania. I'm picking Cena to win, breaking his losing streak that he has been on over the last few months.
Women's Battle Royal: I don't know much about this match and really don't care to. Will it matter who wins? Probably not, as both previous mens matches have been a waste of time. I'll go with Becky Lynch as the winner, as she is due a push by WWE.
While there are sure to be a couple other matches thrown in here and there and probably an appearance by my favorite superstar of all-time, The Rock, this pretty much sums up Wrestlemania 34. If you are planning on watching the event, leave your afternoon and evening pretty much open, as last years Mania ran over 5 hours, not even counting the pre-show. Wrestlemania 34 is expected to be the longest Mania of all-time and could possibly last nearly 8 hours total. With the show being that length, fans better be ready to settle in a long night of wrestling.