Preview: Ben Folds to Play The Pageant Nov. 3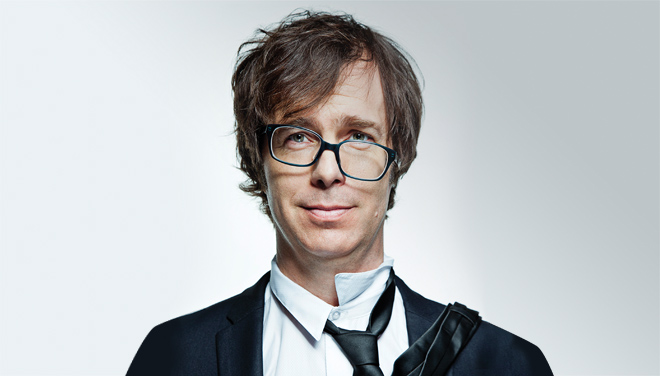 On Friday November 3 rd, 105.7 The Point is welcoming Ben Folds' "Paper Airplane Request Tour."
St. Louis is one of the lucky stops for this cross-country tour featuring the nostalgic Ben Folds pounding his hits out on the piano. The show is being performed at The Pageant, which will be an up close and upbeat experience from a music man known for rousing a packed crowd.
Ben Folds began his inventive genre bending career as the frontman for Ben Folds Five in the 90s, before later forging his own path as a musical innovator of the generation. Ben Folds Five was well stacked for stardom with a trio composed of vocalist Ben Folds, bassist Robert Sledge, and drummer Darren Jessee. The group curated its own mesh of pop rock, with grandiose piano play, and jarring anthems. They produced 3 albums in the 90s, until the group took a reprieve, while vocalist Ben Folds himself
embarked on a solo career. He essentially became the conductor of his own symphony becoming a classical crossover with orchestras worldwide, showcasing acapella groups as a TV competition judge, and producing an impressive resume of collaborative records. Ben Folds Five reunited in 2012 for a tour, leading to another album, which allowed the reintroduction of themselves to a new era, and nostalgia for original fans.
Ben Folds most recent album reached the number one slot on Billboards classical crossover charts. He has morphed his craft into a successful compilation of orchestral ballads, but this tour he will be returning to his roots in a high energy, piano pounding performance.
Ben Folds versatility as a vocalist, song writer, producer, and pianistic pioneer have allowed him to mesh musical molds. He has fine tuned his craft, but the fans will always applaud his level of spontaneity and almost implied messiness of his lyrical hooks. Ben Folds strives to be an ambassador of the classical genre by singing his point of view aside an orchestral ensemble of layered arrangements and gutsy lyrics. His larger than life stage presence, belting nostalgia into the air, alongside his piano will surely
create an experience for his audience. Ben Folds' "Paper Airplane Request Tour" will be performing at The Pageant on Friday November 3 rd . This show is welcome to all ages. The doors will open at 7 p.m. and the show will begin at 8 p.m. All ticket
options can be reviewed and purchased on Ticketmaster website.