PIRANHA 3D starring Richard Dreyfuss, Ving Rhames, Christopher Lloyd, and Jerry O'Connell Opens August 20! Enter to Win Tickets
PIRANHA 3D OPENS AUGUST 20 NATIONWIDE.
Enter for your chance to win tickets, good for two!
Synopsis: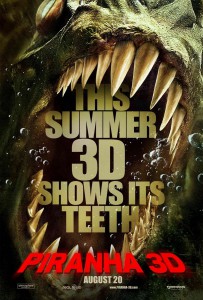 Every year the population of sleepy Lake Victoria explodes from 5,000 to 50,000 for Spring Break, a riot of sun and drunken fun. But this year, there's something more to worry about than hangovers and complaints from local old timers; A new type of terror is about to be cut loose on Lake Victoria. After a sudden underwater tremor sets free scores of the prehistoric man-eating fish, an unlikely group of strangers must band together to stop themselves from becoming fish food for the area's new razor-toothed residents
In order to enter the contest, become a fan of ReviewSTL on Facebook and suggest ReviewSTL.com to all your friends (click the "suggest to friends" link on the left side of the page). Then post a comment on the ReviewSTL fan page telling us why you can't wait to see PIRANHA 3D! NO PURCHASE NECESSARY. PLEASE REMEMBER TO READ THE RULES!
Good luck! We hope to see you at the movies!
[hdplay id=119 width=595 height=375]