GOING THE DISTANCE Opens August 27th! Enter to Win Passes to the St. Louis Advance Screening!
GOING THE DISTANCE OPENS AUGUST 27th NATIONWIDE.
Enter for your chance to win a pass, good for two!
Synopsis: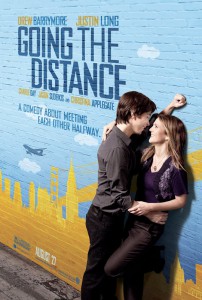 Erin's wry wit and unfiltered frankness charm newly single Garrett over beer, bar trivia and breakfast the next morning. Their chemistry sparks a full-fledged summer fling, but neither expects it to last once Erin heads home to San Francisco and Garrett stays behind for his job in New York City. But when six weeks of romping through the city inadvertently become meaningful, neither is sure they want it to end. And while Garrett's friends, Box and Dan, joke about his pre-flight calorie-cutting and his full-time relationship with his cell phone, they don't like losing their best drinking buddy to yet another rocky romance. At the same time, Erin's high-strung, overprotective married sister, Corrine, wants to keep Erin from heading down an all-too-familiar road. But despite the opposite coasts, the nay-saying friends and family, and a few unexpected temptations, the couple just might have found something like love, and with the help of a lot of texting, sexting and late-night phone calls, they might actually go the distance.
In order to enter the contest, become a fan of ReviewSTL on Facebook and suggest ReviewSTL.com to all your friends. Then post a comment on the ReviewSTL fan page telling us why you want to see the film. NO PURCHASE NECESSARY. PLEASE REMEMBER TO READ THE RULES!
SCREENING IS TUESDAY, AUGUST 24th.
Good luck! We hope to see you at the movies!