PINA Opens at the Chase Park Plaza Cinemas on February 10! Enter to Win Passes to the St. Louis Advance Screening!
Enter to win a pass good for two!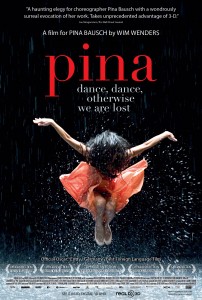 "Dance, dance, or we are lost." Pina Bausch's final words summarize her life and provide the inspiration for acclaimed director Wim Wenders' (WINGS OF DESIRE, BUENA VISTA SOCIAL CLUB) breathtaking tribute to the legendary choreographer. Bausch and her Tanztheater Wuppertal elevated dance into brilliantly subversive new expressive realms, and in this exhilarating film Wenders captures the raw, heart-stopping intensity of the movement and in stunning 3D transforms it into a transcendent cinematic experience. An official selection of the Berlinale, Telluride, Toronto and New York film festivals, and now Germany's official entry for the Oscar for Best Foreign Language Film, PINA features interviews with and performances by Bausch's beloved original company members, and offers an indelible image of an artist who went the full distance in her uncommonly rich creative life.
Cast: Pina Bausch, Tanztheater Wuppertal
Director: Wim Wenders
In order to enter the contest, become a fan of ReviewSTL on Facebook and share ReviewSTL.com with all your friends (click the "share" link on the bottom-left side of the page) – telling us why you can't wait to see the movie! Then "like" the post to complete your entry. NO PURCHASE NECESSARY. While supplies last. Passes are available on a first-come, first-served basis.
One pass (each admits two) per person. Theater is overbooked to ensure capacity. Employees of participating sponsors are ineligible. PINA has been rated PG (Parental Guidance Suggested – Some Material May Not Be Suitable for Children).
Screening is Thursday, February 9 at the Chase Park Plaza Cinemas (7pm).
Good luck! We hope to see you at the movies!
IN THEATERS FEBRUARY 10