Movie Review – "The Woman in Black" starring Daniel Radcliffe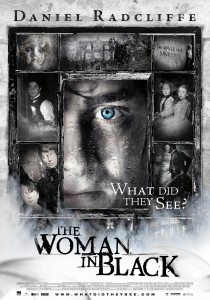 My first thought upon leaving The Woman in Black was "This is the worst Harry Potter movie ever. It's like he completely forgot he could do magic!"  Now, this is obviously a joke, but poses a pertinent question, what does Daniel Radcliffe bring to the table in his post-Harry Potter career? Many of the people who will see The Woman in Black this weekend will be there due to the fame Radcliffe has secured with his iconic portrayal of the teenage wizard.  Much of the audience will have to decide to suspend their disbelief in a role that is quite different from what we've seen in the past.
Athur Kipps (Daniel Radcliffe) is a young lawyer tasked with sorting through the paperwork of an old household, and collecting the proper documents for his law firm. To do this, he must travel to a small English town where the townsfolk are superstitious about a local haunting, and a number of mysterious deaths involving children. Kipps must fight past the superstition, and get the documents needed to keep his job, and maintain a healthy lifestyle for his child.
Unlike many of the torture-porn style horror films that seem to be in vogue lately, Woman in Black is a more traditional horror story. The tone of the film is set to chill you, and set you up for the easy jump scare. It isn't hard to spot when many of the jump scares are coming, but the film does an excellent job of making your heart leap into your throat either way. It might have been worse for me, because I had a person next to me who was apparently short on their anti-seizure medication. (Note to my friend: Sorry for throwing you under the bus.) If anything, this proves that the movie is effective at its scares, but unfortunately much of the in between is what is lacking. The pace is exceptionally slow at times, and the end of the film is quite unsatisfying.
Many people will be delighted to know that Radcliffe shows that he has a future outside of acting in Harry Potter films. This has already been proven by his turns December Boys, My Boy Jack, and his work in the theater. The hardest element to work with is his age. The character Arthur Kipps is a widower, and already a trained lawyer. However, if you had not watched him grow up on screen, it might not even have been noticeable.
The Woman in Black is not going to be entirely memorable, but it's a decent enough gothic horror film and it marks the return of Hammer Films. If you are a horror buff, by all means check it out. If you are scared easily (and you aren't into it) it is probably one to skip.
Grade: B-