Pictures of Canadian Women's Hockey Team Celebration at Winter Olympics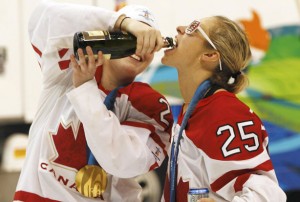 With all of the controversy over Scotty Lago's 'racy' (yet not so racy) party pictures, I can't wait to hear what the International Olympic Committee says about this one.
Last night after defeating the US 2-0 in Women's hockey, the Canadian team went all out with a full-blown celebration. There were cigars, beer cans, and partying. And if we have learned anything at these Olympic games, it is that you should never party anywhere close to your medals. Unfortunately for the Canadian hockey players, they did just that. I can only imagine Scotty Lago counting his blessings after these ladies took some of his heat.
The International Olympic Committee has now officially stated that they are going to investigate the celebration, which we now know involves underage drinking. The plot thickens.
18-year-old Marie-Philip Poulin is only 18 years old – a year shy of the legal drinking age in British Columbia. While she is only a month away from 19, it still doesn't make it right. Executive Director Gilbert Felli of the IOC said, "I don't think it's a good promotion of sport values. If they celebrate in the changing room, that's one thing, but not in public."
Hockey Canada released this statement earlier today which included, "The members of Team Canada apologize if their on-ice celebrations, after fans had left the building, have offended anyone."
Below are pictures of the Canadian Women's Hockey Team, Drinking and Smoking to celebrate their Olympic Gold Medal Win last night: