PHILOMENA opens November 22! Enter to Win Passes to the St. Louis Advance Screening!
Enter to win a pass for two!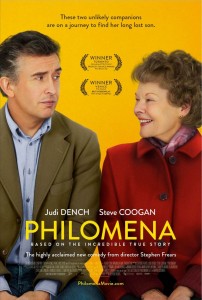 Based on the 2009 investigative book by BBC correspondent Martin Sixsmith, The Lost Child of Philomena Lee, PHILOMENA focuses on the efforts of Philomena Lee (Dench), mother to a boy conceived out of wedlock—something her Irish-Catholic community didn't have the highest opinion of—and given away for adoption in the United States. In following church doctrine, she was forced to sign a contract that wouldn't allow for any sort of inquiry into the son's whereabouts. After starting a family years later in England and, for the most part, moving on with her life, Lee meets Sixsmith (Coogan), a BBC reporter with whom she decides to discover her long-lost son.
Cast: Judi Dench, Steve Coogan
Director: Stephen Frears
For your chance to receive event passes, log on to WWW.GOFOBO.COM/RSVP
Enter RSVP Code: REVIEWN4PX
Winners will be chosen at random from all entries. Supplies are limited. Limit one (1) pass per person, passes admit (2) two. Sponsor's employees and their dependents are ineligible. Screening is overbooked to ensure capacity. Please refer to passes for any other possible restrictions. NO PURCHASE NECESSARY.
Screening will take place Thursday, November 14 at Plaza Frontenac (7pm).