Movie Review: 'Thor: The Dark World' Starring Chris Hemsworth, Natalie Portman, Tom Hiddleston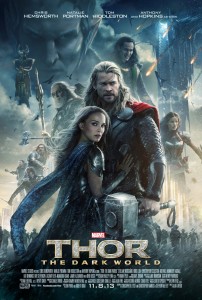 This year's Thor is part of Marvels second outing of films otherwise known as "phase two." Iron Man 3 was the first earlier this year. However, I wasn't fully satisfied by Iron Man 3 and I began to worry that maybe Marvel is starting to lose its way. I mean, how do you follow up with The Avengers?
Thor: The Dark World cures those woes and builds upon the world set in the first movie. Chris Hemsworth, naturally, makes his return as Thor along with his estranged but lovable evil brother Loki (Tom Hiddleston). The film begins by following Thor as he goes about restoring order, squashing wars and bringing peace to the nine realms, all while Jane Foster (Natalie Portman) – his love interest from the first movie – stumbles upon something that gathers the attention of a long forgotten evil.
That evil isn't Loki as you'd might expect, but instead is a dark elf known as Malekith (Christopher Eccleston of Doctor Who fame), who seeks an indestructible weapon known as the Aether. This is where the movie lacks. Malekith never really seems like the threat the Asgardians make him out to be. Heck, Malekith's right hand man Alrgim, who later becomes Kurse, is far more dangerous and ominous throughout the movie. I just never felt the sense of despair from Malekith, despite his invasion of Asgard. I mean, there's a reason he was forgotten about before, right? As you can guess, Malekith's ultimate goal is to use the Aether to return the universe to a "dark" state, spelling doom for all the realms – hence "The Dark World," get it? Odin (Anthony Hopkins) makes a return, as well. He tells Thor that he cannot take on Malekith alone (whatever, he totally could), so he enlists the help of his brother Loki, who only agrees to help them after his actions cause an unattended consequence.
What's nice about this film is that it's almost as if Thor and Jane have switched places. In The Dark World, Jane is brought to Asgard for protection against Malekith and we get to see Asgard up close. There's definitely a sci-fi meets Lord of the Rings vibe to Asgard. This part of the movie is unique and refreshing. We're presented with a different world, one of gods; how they live, celebrate and go about their lives. Thor's friends all make appearances and get ample screen time, but Heimdall (Idris Elba), the guardian of Asgard who can see anything and everything, is memorable and plays a much bigger role this time around.
The film follows many of the "Marvel tropes" with humor and seriousness going hand-in-hand. What was interesting to me was the almost celebrity-like status Thor had within the minds of the people of Earth. There were a few chuckle-worthy scenes where Thor's heartthrob and foreign status come into play. On the other end, there were some pretty serious moments for Thor. It speaks a lot to the director (Alan Taylor), who can pull these two things together and still make a decently coherent and enjoyable film.
Thor: The Dark World provides a solid second outing for the God of Thunder. The film had an unexpected humorous vibe as mentioned before, provided by the likes of Kat Dennings and Stellan Skarsgård, and cameos by Chris Evans and Chris O'Dowd. The movie's climax ends up taking place back on Earth, but again, Malekith felt like an underwhelming villain, which is a shame, because Christopher Eccleston's performance was awesome. However, in the end, the actions in this movie will provide a solid foundation for when Thor undoubtedly makes his appearance is The Avengers: Age of Ultron.
Oh, and still till the very end of the credits.