Paula Abdul Quits "American Idol"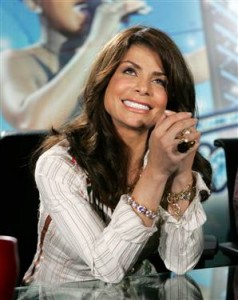 It's been speculated at for quite a while, but Paula Adbul used internet service, Twitter, to confirm she has quit the cast of American Idol after eight seasons. After Kara DioGuardi signed back on it was speculated by many that Abdul would not be back. Abdul's contract negotiations have gone south in the past couple weeks and have apparently resulted in her leaving the show.
Rumors have it that Abdul walked away from a 30% raise and a possible eight figure deal. While not as substantial as Cowell's deal with FOX, it still seems like she would have been above judge Randy Jackson's take.
Abdul's Twitter:
"With sadness in my heart, I've decided not to return to IDOL. I'll miss nurturing all the new talent, but most of all being a part of a show that I helped from day 1 become an international phenomenon. What I want to say most, is how much I appreciate the undying support and enormous love that you have showered upon me. It truly has been breathtaking, especially over the past month. I do without any doubt have the BEST fans in the entire world and I love you all."
FOX's official statement:
"Paula Abdul has been an important part of the American Idol family over the last eight seasons and we are saddened that she has decided not to return to the show. While Paula will not be continuing with us, she's a tremendous talent and we wish her the best."
Ryan Seacrest's Twitter:
"Idol and the cast have grown with each other over the last 8 seasons. I can't imagine the panel without Paula. She's a star @ a great friend."
So, I guess this is the end of an era for American Idol. Personally I think Dioguardi is a much better judge, and has much better criticism for the contestants. I don't watch the show that often, but when I did I wasn't a big fan of Abdul and her over the top antics. Maybe we can just put her and Mary Murphy on a boat and send them to the island in Lost? Not a real place? Oh, well we will find something.
So, Idol fans, what do you think of this latest development? Will it hurt the show? Will you continue watching? Will this help bring in new viewers who didn't like Abdul? Let us know in the comments below!