Paramore Covers "Use Somebody" by Kings Of Leon – BBC Live Lounge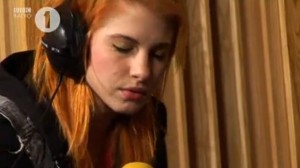 Paramore came into the Live Lounge and performed a cover of Kings of Leon's "Use Somebody" on September 4, 2009. I am a fan of both of these bands, and have always liked Kings of Leon's song which has now become played often all over the radio.
If you are a fan of either Paramore or Kings of Leon – or both – check out the video. You will not be disappointed. Enjoy.