Paper Heart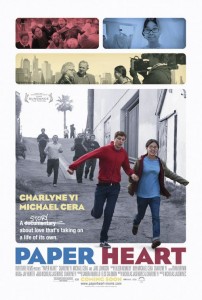 Charlyne Yi's pseudo documentary drama is bound to make you smile and get caught up in the love thrown up on screen by the real life interviewees and the dramatized version of her own coupling with Michael Cera.
This documentary opens with our narrator contemplating her own ability to find love and whether she thinks she is even capable of said emotion. So here and her ever present director, friend Jake Johnson, set out to find out what love is by finding stories from around the continent that encapsulate what love is. As the filming progresses on, Charlyne runs into Michael Cera at a party and he becomes a bit infatuated with her and begins to maybe try and spark something to happen. Michael and Charlyne's bonding starts out friendly and slowly evolves into something more and becoming a part of the documentary itself as it is a real life litmus test to see if Charlyne can fall in love.
Now, the film plays with you a little bit as the stuff between Michael and Charlyne, and as well as the director's interactions with the two are entirely staged. But here is the rub on that, the two (Cera and Yi) are actually dating in real life and their encounters are sincere and probably them just being themselves around each other so it is both authentic and fabricated. The interviews are real and out of them we get some really great stories and tales about love and how funny, fickle, and confusing it can be. Yi's observations also seem quite authentic as well and her musings on the subject are coming from a not so common place of thought but valid none the less.
It is just nice to see some of these stories and examples of what love can bring to two people, and Yi spices them up by acting out these peoples stories in a stick figure theater of sorts that is both very low budget with a lot of ingenuity that will gets some laughs and provide a nice visual template for these tales of love. With this said though, the film does drag quite a bit in the third act and we could of done with a lot less of the depressed mopping around of Yi and Johnson as they try to figure out their relationship and film, respectively. If they were trying to stretch the run time, I am sure they just as easily could have plugged in another interview or two here or there and it would have been far more enjoyable then wallowing around Paris.
Luckily Yi puts together a silly finale for us in puppet form and sends us out on a high note, and it's her odd charisma that keeps us engaged throughout the film. Yi is an odd duck but a kind soul that is easily to like and fun to watch as she awkwardly works through these interviews. Cera on the other hand is playing Cera and the results are quite funny as usual. Wise cracking smart ass he is, Cera is having a lot of fun getting to more or less be himself and have some fun in front of the camera, trying out jokes and dropping a number of good one liners. Nicholas Jasenovec is the films director and "plays" Johnson in the film and quite frankly we could have done without as much as we get of him. I get he is supposed to be intrusive on this relationship but he becomes as annoying to the viewer as he does to the couple, thrusting himself in front of the camera as much as possible over the third act and I think it was a bad move on his part. He is nowhere near as likeable and interesting as Yi or Cera and he should have stayed out of the way and let them do their thing.
In the end, Paper Heart is a fun little film that is hampered by a slow third act and a bit of posturing by the director in front of the lens of the film. The film is an honest look at love and has a couple of really nice stories from real people on the subject matter. Yi and Cera also light up the screen and provided the laughs when together and I wish they would have stuck with these two elements over the needless self pity of the third act. With that said the film is still quite good and is a fun take on the subject with some hilarious moments provided by the two leads. The stick figure puppet shows are also quite good and help keep the film fresh and original and not just a bunch of people staring into the camera talking. An interesting hybrid of documentary filmmaking, I feel like the film succeed far more than it dropped the ball and is a must see for any fans of the two stars who really shine in the picture.
Paper Heart is a B-