PANDORA Unforgettable Moments Presents MANNHEIM STEAMROLLER CHRISTMAS at the Fox on Sat. Dec. 8
Returning to St. Louis for a limited engagement on Saturday, December 8th is MANNHEIM STEAMROLLER CHRISTMAS By CHIP DAVIS, presented by PANDORA Unforgettable Moments. Two shows are available, at 4pm and 8pm. Tickets are on sale now starting at $37.50 at Metrotix.com or the Fabulous Fox Theatre box office (314-534-1111).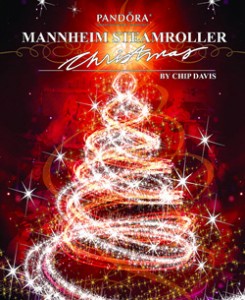 Synopsis: Experience the Magic! Mannheim Steamroller Christmas by Chip Davis has been America's favorite holiday celebration for over 25 years. Grammy Award winner Chip Davis has created a show that features the beloved Christmas music of Mannheim Steamroller along with dazzling multimedia effects performed in an intimate setting. The spirit of the season comes alive with the signature sound of Mannheim Steamroller. Don't miss this ultimate holiday tradition from the #1 Christmas music artist in history!
Here is a recent Q&A with director Chip Davis about Mannheim Steamroller:
When was your most recent Christmas album released?

Chip Davis: Just last year. The album is called Christmas Symphony and held the #1 or #2 spots on the charts for the whole season. And two years ago, Mannheim Steamroller Christmas – 25th Anniversary Collection was certified gold.
Why do you think Mannheim Steamroller's Christmas albums have been so popular?

Chip Davis: At Christmas time especially, people want to listen to something that is familiar in their lives. And for over 25 years, millions of people have grown up listening to our music. It's comforting to hear something from your childhood – kind of like comfort food. Also, Christmas time is family time, and our music and concerts are all family friendly. We often see three generations attending one of our shows.
You started your own record label, American Gramaphone in 1974 to promote Mannheim Steamroller's first Fresh Aire album. Why did you form your own label??

Chip Davis: My first album "Fresh Aire" was well liked by the big record companies but they all turned us down because they couldn't figure out how to market an instrumental group that combined Renaissance instruments with rock beats. So I had to start my own independent record label to get the album recorded. It was an accident that it took off: my engineer got the idea of sending our album to a national consumer electronics show where there were hi-fi distributors from all over. They used it as a demonstration album because of its quality. Their customers would ask," What are you playing?" People would buy the stereo — and our album along with it. Mannheim Steamroller has sold 40 million albums since then!
And you also couldn't find a promoter to book your live shows?

Chip Davis: That's right. In the beginning no one would book us. So I borrowed $385,000 from a local bank in Omaha and rented the theaters myself. We did a five-city tour including Omaha and Kansas City. That was the beginning of our success; this is the 27th year for our annual tour that now reaches over 90 cities.
Why are you no longer touring with Mannheim Steamroller?

Chip Davis: Unfortunately, I can no longer play with the band because I was involved in a car accident years ago – a head on collision – where I hurt my neck and right arm. Over the years, I had overwhelming pain because of the lasting effects and finally underwent surgery, replacing all the cervical discs in my neck. I'm pain free now but have limited feeling in my right arm and very little mobility. That's why I don't perform on tour.
So now I can instead focus on recording and producing the tours. We have two Mannheim Steamroller companies going out for the Christmas Tour. Plus another company headlines Universal Orlando's holiday celebration throughout the month of December. And we often have yet another ensemble for performances on national television shows, the Macy's Thanksgiving Parade and other activities.
Do you come from a family of musicians?

Chip Davis: Yes, for as long as I can remember, I've always been around music. I have third generation musicians on both sides of my family. My dad was a saxophone player in a big band during the World War II era. My mother played trombone for the NBC Symphony. She was even a poster girl for the famed music center, Interlochen Art Academy. Both of my grandmothers were piano teachers, as well.
How many instruments do you play?

Chip Davis: I majored in Bassoon as the University of Michigan, but I also play the drums, hammered dulcimer, cornamus and a crumhorn. I love to play old instruments.
You were with the Norman Luboff Choir? What did you learn from that experience?

Chip Davis: It was my first job out of college. I not only sang tenor but I also was given the opportunity to get some of my compositions published. The Norman Luboff Choir sang classical music for the first part of the program, everything from 14th century works to classic pieces by Mozart. The second half of each concert included folk songs, jazz, and pop. That taught me how one can blend the classics and popular music together to create a fresh and popular concert – and opened my eyes and my ears to a broader musical palette. During our many long bus rides on the tour, I had time to discuss compositional techniques with the master, Norman Luboff. We also used to discuss music and art and I had time on the bus to write songs.
How did your big break come through a series of radio commercials?

Chip Davis: I worked as a jingle writer at the start of my career. One of the ad executives was Bill Fries and we wrote a series of commercials about a fictional truck driver named C.W. McCall and his waitress girlfriend, Mavis, at the "Old Home Filler Up and Keep on Truckin' Café." Bill was the voice of McCall. Well, those jingles became extremely popular with radio listeners. We eventually produced one in 1975 that became the song, "Convoy," which went on to sell 10 million copies.
What were you trying to do with music when you formed Mannheim Steamroller?

Chip Davis: I wanted to explore new ways of expressing music and created a sound I call "18th Century classic rock". I don't believe in all acoustic or all electronic, all digital or all analog. My style is where they all meet.
Where did the name Mannheim Steamroller come from?

Chip Davis: From Mannheim, Germany. That's where Mozart and composer/music theorist Joseph Stamitz both lived. Stamitz came up with the idea of the crescendo: music building and getting louder in order to excite the audience. The 18th Century musical phrase "Mannheim Valse" literally meant, "roller," and people used to joke that the loud music would roll over the crowd and flatten them. When it was time to start selling my band, I had to come up with a name to market. At the time the big rock groups had interesting names like Jefferson Airplane or Iron Butterfly. So I came up with the name Mannheim Steamroller.
If you could have dinner with any musician, who would that be and why?

Chip Davis: Mozart. I think he was a lot of fun and probably had a lot of sense of humor; a screwball like I am. He'd be very interesting to be around.
Are your three children also into music?

Chip Davis: All three are talented musicians. My oldest daughter, Kelly, is a marketing and advertising student but she is also a fabulous singer — and quite a competitive equestrian. My sixteen-year old son, Evan, is into rock and roll. He plays electric guitar and also composes at the piano. He has a real future in music. And my youngest, thirteen year-old Elyse, can sight read and play the piano. She's also a great singer. My kids all learned to play music off the same piano that I did, my grandmother's small baby grand piano.
You've received a number of awards and recognitions from the music industry.

Chip Davis: I won a Grammy Award for "Fresh Aire Seven" for Best New Age Recording in 1990. Seven, I guess is my lucky number. And to date, Mannheim Steamroller has been certified with 19 gold records, eight platinum and four multi-platinum albums.
Why are you in Omaha rather than on the East or West coasts?

Chip Davis: I grew up in a small farm town in Ohio. That community atmosphere and values helped shape who I am today. I now live on a 140-acre farm that covers all kinds of natural terrains and surroundings. So I guess the farm boy is still in me.
What are some of the other businesses you are involved in?

Chip Davis: We have a whole line of Mannheim Steamroller products including food items, apparel, a bath and body line, gift products and more. They are all items that complement the musical experience. Our most popular food product is Cinnamon Hot Chocolate. We sell tons of it during the holidays.
You are also working in the medical field and with NASA?

Chip Davis: I've been involved in the medical business for several years with a project I created called Ambience Medical. It uses four channel audio algorithms to simulate nature sounds that can "trick" the brain into lessening the pain signals it sends out, or even fooling the body into believing that it is in a much larger space than it actually is. We've done pain studies that have shown that playing these sounds lower the pain perception by 35 -40 percent in many patients. We built an audio unit that is currently installed in 96 hospital rooms around the country including the Mayo Clinic. NASA is also experimenting with the product to see if it will be useful for astronauts going on long-range space travel.
For me, I see all of these latest developments as yet another way to bring music into people's lives and enrich all of our experiences. It is something that I have always wanted to do – and will continue to do.
---
PANDORA Unforgettable Moments Presents MANNHEIM STEAMROLLER CHRISTMAS by Chip Davis at the Fabulous Fox Theatre this Saturday (Dec 8) at 4pm and 8pm. Tickets are on sale now starting at $37.50 at Metrotix.com or the Fabulous Fox Theatre box office (314-534-1111).