"Batman Live" World Arena Tour Is Coming to St. Louis December 7-9 at the Chaifetz Arena!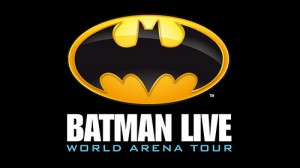 With the rejuvenation and mainstream success of Batman after Christopher Nolan's epic 'Dark Knight Trilogy,' it was only a matter of time before a live-action version of the caped crusader took the world by storm. In the summer of 2011, the Batman Live World Arena Tour was born in Manchester, England – and has finally made its way to the states!
Starting this past September, the "World Arena Tour" commenced and is landing in St. Louis, MO for three days – December 7, 8 and 9 at the Chaifetz Arena.
Click here for showtimes and to purchase tickets at thechaifetzarena.com.
Synopsis:

Faithfully adapted from the DC Comics' characters and stories, BATMAN LIVE focuses on Robin's quest for justice, which leads him to follow in the footsteps of his hero, the mysterious vigilante known as the Batman – much to the dismay of his protective guardian, millionaire Bruce Wayne – who secretly happens to be Batman.

This dynamic triangle resolves itself in a non-stop thrill-ride across Gotham City that transforms Bruce Wayne and Dick Grayson into the legendary crime-fighters Batman and Robin and transports the audience from the Big Top of Haly's Circus to the lower depths of Arkham Asylum – from the glittering peaks of the The Penguin's Iceberg Lounge to the subterranean wonders that await inside the Batcave, which features a revolutionary, all-new Batmobile designed exclusively for BATMAN LIVE by Professor Gordon Murray.
The all-new show features a cast of 42 actors and acrobats, an original story and score, and state of the art stage – featuring a 105 foot LED screen in the shape of the iconic bat symbol. The show is a $15 million dollar production that takes two days to setup in each arena. It has toured across 15 countries in Europe and South America before coming to the United States – seen by over 600,000 people.
For more information about the Batman Live World Arena Tour, visit batmanlive.com or thechaifetzarena.com to purchase tickets.