Oscars® "Celebrate the Movies" with Launch of Digital Exhibition
84 ICONIC FILM IMAGES SHOWCASED IN ONLINE, OUTDOOR GALLERIES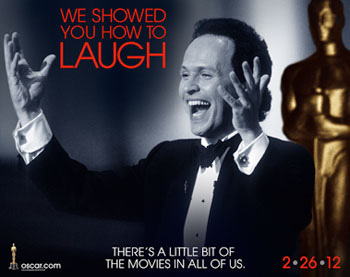 Beverly Hills, CA – In anticipation of the 84th Academy Awards®, the Academy of Motion Picture Sciences has launched "Celebrate the Movies," a digital exhibition spotlighting iconic moments from 84 films.
Beginning today, January 23, the exhibition will appear on digital billboards in Los Angeles, and on ABC's digital "SuperSign," an electronic landmark in New York's Times Square. It will also be showcased on an online gallery on Oscar.com, and extend to youtube.com/Oscars, where fans can share their most memorable movie-going experiences through video or text.
Images will debut in groups of 20 within the next two weeks. The 84 films represented span eight decades, beginning with "Bride of Frankenstein" (1935) and culminating in "Avatar" (2009). Highlights from each decade include "Gone with the Wind" (1939), "Casablanca" (1942), "The Killers" (1946), "Sunset Boulevard" (1950), "Breakfast at Tiffany's" (1961), "True Grit" (1969), "The Exorcist" (1973), "Saturday Night Fever" (1977), "The Empire Strikes Back" (1980), "Driving Miss Daisy" (1989), "Apollo 13" (1995), "Shrek" (2001), "Ray" (2004), and "The Dark Knight" (2008).  The exhibition highlights all of Hollywood's major genres, as well as independent, animated, foreign-language, and documentary films.
Included in the first 20 images are the eight that were featured in the key art campaign, which was unveiled in late December.
The 84th Academy Awards nominations will be announced live on Tuesday, January 24, at 5:30 a.m. PST in the Academy's Samuel Goldwyn Theater.
Academy Awards for outstanding film achievements of 2011 will be presented on Sunday, February 26, at the Kodak Theatre at Hollywood & Highland Center®, and televised live at 7 p.m. ET/4 p.m. PT by the ABC Television Network. The Oscar® presentation also will be televised live in more than 225 countries worldwide.
ABOUT THE ACADEMY
The Academy of Motion Picture Arts and Sciences is the world's preeminent movie-related organization, with a membership of more than 6,000 of the most accomplished men and women working in cinema. In addition to the annual Academy Awards – in which the members vote to select the nominees and winners – the Academy presents a diverse year-round slate of public programs, exhibitions and events; provides financial support to a wide range of other movie-related organizations and endeavors; acts as a neutral advocate in the advancement of motion picture technology; and, through its Margaret Herrick Library and Academy Film Archive, collects, preserves, restores and provides access to movies and items related to their history. Through these and other activities the Academy serves students, historians, the entertainment industry and people everywhere who love movies.
FOLLOW THE ACADEMY
www.oscars.org
www.facebook.com/TheAcademy
www.youtube.com/Oscars
www.twitter.com/TheAcademy