Enter for your chance to win a pass, good for two!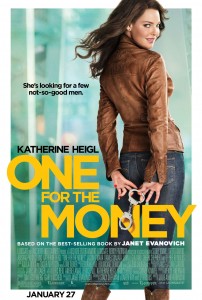 Katherine Heigl brings Stephanie Plum – the popular heroine of Janet Evanovich's worldwide best-selling seventeenth-book mystery series – to vibrant life in Lionsgate and Lakeshore Entertainment's ONE FOR THE MONEY. A proud, born-and-bred Jersey girl, Stephanie Plum's got plenty of attitude, even if she's been out of work for the last six months and just lost her car to a debt collector. Desperate for some fast cash, Stephanie turns to her last resort: convincing her sleazy cousin to give her a job at his bail bonding company…as a recovery agent. True, she doesn't even own a pair of handcuffs and her weapon of choice is pepper spray, but that doesn't stop Stephanie from taking on Vinny's biggest bail-jumper: former vice cop and murder suspect Joe Morelli – yup, the same sexy, irresistible Joe Morelli who seduced and dumped her back in high school. Nabbing Morelli would be satisfying payback – and a hefty payday – but as Stephanie learns the ins and outs of becoming a recovery agent from Ranger, a hunky colleague who's the best in the business, she also realizes the case against Morelli isn't airtight. Add to the mix her meddling family, a potentially homicidal boxer, witnesses who keep dying and the problem of all those flying sparks when she finds Morelli himself…well, suddenly Stephanie's new job isn't nearly as easy as she thought.
Cast: Katherine Heigl, Jason O'Mara, Daniel Sunjata, John Leguizamo, Sherri Shepherd, Debbie Reynolds
Director: Julie Anne Robinson
In order to enter the contest, become a fan of ReviewSTL on Facebook and share ReviewSTL.com with all your friends (click the "share" link on the bottom-left side of the page) – telling us why you can't wait to see the movie! Then like the post to complete your entry. NO PURCHASE NECESSARY. PLEASE REMEMBER TO READ THE RULES!
Winners will receive a complimentary run of engagement pass to see the film, good for two seats.
Good luck! We hope to see you at the movies!
ONE FOR THE MONEY opens on January 27.