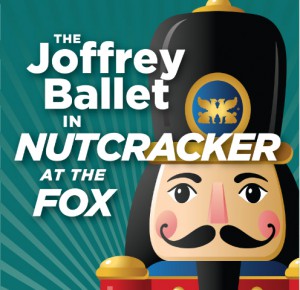 The Joffrey Ballet's production of 'Nutcracker" at the Fox Theatre is a wonderful way to start the Christmas season.
One of the most beloved ballets of all time, "The Nutcracker" tells the story of Clara and her brother Fritz. It is Christmas Eve, and family and friends have all gathered at the Stahlbaum residence. Dr. Drosselmeyer, the Godfather of the children, gives them a wooden nutcracker. But when Fritz plays too roughly with the gift, it becomes broken. After nursing the nutcracker back to health, the children are sent to bed. During the middle of the night, Clara wakes up to check on her nutcracker and is quickly surprised to find herself in the middle of a battle between mice and the gingerbread soldiers – lead by none other than the nutcracker!
Prepare to be taken to a spectacular dream world, deep inside the mind of a child. One that has captivated the hearts for well over a century. From the moment you are taken into the parlor of the Stahlbaum house for Christmas Eve, you are introduced to one of the most marvelous and elaborate sets that I have ever laid eyes on. Every little detail is perfect – down to each and every present. The costumes that each of the actors are wearing were meticulously crafted, with beautiful colors and designs. It truly feels like you are in the middle of a 19th century Christmas.
The music, beautifully performed by the Ballet Orchestra of St. Louis, makes the experience worthwhile on its own merit. Every note of Tchaikovsky's cherished score is played with breathtaking skill. Listening to favorites such as "March," "Dance of the Sugar Plum Fairy," "Trépak" and many others is sure to bring a smile to anyone's face.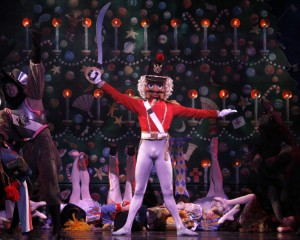 The members of the Joffrey Ballet elegantly performed each dance with stunning grace. Each movement was as smooth as silk, and the physical perfection exhibited by the dancers shows their dedication to their work. While Clara's role does not involve as many intricate dances as others, Abigail Simon does a tremendous job throughout the show. She goes through a roller coaster of emotion as she is taken on this incredible journey, and does so quite convincingly. Derrick Agnoletti, who plays Fritz, also performs the role of the Snow Prince. His solo dances are astonishing as he seems to float through the air while on stage. Matthew Adamczyk and Kara Zimmerman, who play Clara's parents as well as the Snow King and Queen, also give awe-inspiring performances.
The holiday season doesn't seem to be complete without "The Nutcracker." What better way to kick-off the festivities, than to see Nutcracker at the Fox? Bring the entire family, and enjoy everything that this breathtaking production has to offer. You won't be disappointed.
---
To purchase tickets for The Joffrey Ballet in Nutcracker, visit metrotix.com. For more information, visit joffrey.org or fabulousfox.com.