Norm MacDonald Joins Charlie the Tortoise on Fox 2 News to Pick Super Bowl 44 Winner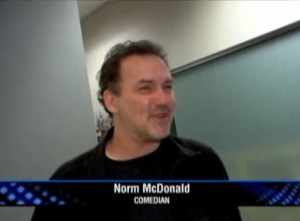 Charlie the Tortoise from Petropolis in Chesterfield appeared on Fox 2 this past Friday, reprising his Superbowl Pick from earlier in the week. Norm McDonald (SNL), famous comedian and actor, was in the studio to help explain the natural instinct of a giant tortoise, and their ability to choose Super Bowl Winners. This is a must see!
Referring to Charlie the Tortoise, Norm said "I was in town… specifically to see [a giant tortoise]. I went to the tortoise store, but they were all regular sized tortoises…"  Tim Ezel asked him if the giant tortoise on the floor, in front of them, was big enough – and Norm jumped and said, "What The!? Good Lord…" Tim told Norm that Charlie was going to pick a Super Bowl 44 winner, and Norm replied "Actually, most giant tortoises can do that.  That is what they're known for. They're known for a couple of things… they're herbavores, and they're very good handicappers.
Watch Norm McDonald and Charlie the Tortoise below:

This was a great segment, and Norm had a great stand-up show.  I went to see it on Friday night, and had a great time.  Norm is funnier than ever, and had the whole crowd laughing non-stop!  If you ever get a chance to see him, don't miss it!  You will not regret it.