No New 'Game of Thrones' Tonight (Memorial Day Weekend), Back June 2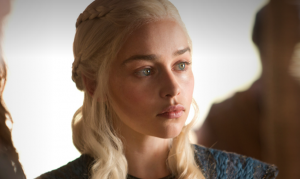 With only two episodes left in Season 3 of HBO's Game of Thrones, fans are sure to be disappointed they won't be enjoying a long weekend with a new episode. "The Rains of Castamere," the ninth episode in the season that would normally air May 26, will now air Sunday, June 2.
The reason for the delay? In 2012 Season 2's second to last episode "Blackwater" aired over Memorial Day weekend, and received a 13 percent dip in the ratings from the week before. This is nothing new, as most shows which air during this weekend usually get a decline in ratings. Instead of seeing history repeat itself, HBO instead delayed the latest episode until next week – building even more anticipation for the penultimate episode of Season 3.
Here is the promo that aired after Episode 8 last week, "Second Sons."

Synopis: Edmure meets his bride as House Tully prepares to ally itself with House Frey. Meanwhile, Jon faces the toughest test of his life; Bran finds he has a new gift; and Daario and Jorah discuss strategies for taking Yunkai.
Game of Thrones will return to HBO on Sunday, June 2 at 9/8c.