Nicholas Winding Refn May Direct "Wonder Woman" After "Logan's Run" Remake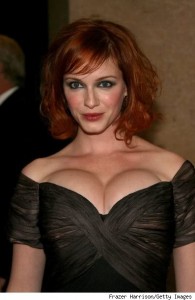 Nicholas Winding Refn is currently on a bit of a hot streak according to most critics, and if he can complete a trifecta then he might get to see his dream realized.  "Bronson" received a lot of praise for those that have seen it, and I have yet to check out his newest film "Drive", but it is definitely one of my most anticipated based on everything I have read.  He has made comments in the past about Christina Hendrick's being his top choice for "Wonder Woman", but are we closer to that reality?
Refn is slated to be at the helm of Warner Brothers remake of "Logan's Run", and according to Refn "if I get "Logan's Run" right then I will get "Wonder Woman"".  This is definitely exciting for the director, but I am not sure how I feel about Hendricks as an action star.  Set your fantasies of Hendricks in the costume aside, would she actually be good as the character?
This adaptation would have to be better than the recently cancelled tv series.  Not because I have that much faith in Refn, but because everything I read and saw from the series was atrocious.  Satisfy your thirst for a "Wonder Woman" film by checking on the DC Animated Film.  I think it is one of the best in the series with excellent voice work from Nathan Fillion and Keri Russell.