New "Three Musketeers" Film In the Works?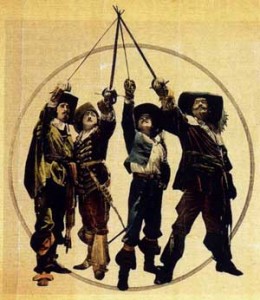 Chris O'Donell just doesn't seem to do it for everyone these days. Reboot mania continues as Alexandre Dumas' famous novel The Three Musketeers is looking to be made into a film again by Warner Bros. This time there are a few people up to helm the adaptation of the famous book. Doug Liman and David Frankel are both up for the job. It is being reported that Frankel is the actual front runner, but may not be able to attach himself to the film because of scheduling conflicts with a Septimus Heap: Magyk film, based on a children's series that bares resemblance to Harry Potter.
Peter Straughn who recently penned the script for Men Who Stare At Goats is writing the script, but apparently Paul W.S. Anderson and Andrew Davies are writing a script as well, which they plan to shoot in a 3D format. Rumor has it they want the red hot Taylor Lautner for the film right now. His schedule is slightly less crowded now after dropping out of Stretch Armstrong.
I am hoping that Liman will be signed on, and that he will get his film out before Paul W.S. Anderson can release anything. I'm a big fan of Dumas novels, and I'm thinking that Liman could do a much better version than Anderson, who is one of the biggest hacks in Hollywood these days.