Matt Damon and Paul Greengrass Officially Confirm No "Bourne 4"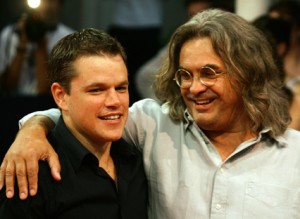 All of you out there who were holding out hope (me included), you can stop your vigils. Bourne series star, Matt Damon, and it's director, Paul Greengrass, has confirmed in press interviews for their latest film Green Zone, that they have no plans to ever step into the Bourne franchise again.
Greengrass has now stated on record that he will never do another Bourne film, while Matt Damon says he will not jump into the character's shoes again unless it was Greengrass who was directing.
"When I was honest with myself last Autumn, and I was starting to get going on other things, you just come to a point where you realize you've done it," said Greengrass. You don't have anything more to contribute to a franchise that needs to continue obviously, and in order to continue, a franchise needs to be rebooted and reenergized by new perspectives."
Damon also commented on the series. "I think they have a good way to do a prequel with someone else, and basically make it about the Bourne identity, the actual identity. Any studio is interested in making it an evergreen that can just go on and on and on, and it never will with our character because he's resolved his issues now.
"He's got his memory back three times now. I don't think anybody wants to see me say 'I don't remember' again, but I think what we could do is that you can do some movies with another actor, anyone, whether it's Ryan Gosling or Russell Crowe or Denzel Washington.
"He's Jason Bourne, and at the end of his one or two or three movies, you see them getting ready to pass the identity onto me, so it just becomes like a 007, it becomes the name that they give this certain person who is uniquely positioned."
So, they leave it open for a reboot or reimagining, but I'm really hoping that if Damon doesn't come back they leave it at an exceptional trilogy. I have a feeling that the films will hold up well over time. They are films that I continually go back to on a rainy day when I want to watch something good. So, a bit disappointing, but I think it was the right time to move on.