New Shockwave Image From TRANSFORMERS 3 and LaBeouf Speaks Out About Fox Not Returning
I am not a TRANSFORMERS fan.  I thought the first one was severely over-loved by the general audience, and I think everyone can agree that the second film sucks.  But when I look at the big picture, it's not TRANSFORMERS, it's Michael Bay.  I am not into the big explosions, heavy action popcorn films.  Just voicing my tastes.  But plenty of people are the complete opposite of me and are very much looking forward to TRANSFORMERS: DARK OF THE MOON.
Here is the newest image of Shockwave, this film's new villain.  And it looks…like all of the other giant robots in the film.  As much as I bash this film I must admit that I am a hypocrite because I will see the film, which is really all the studio cares about.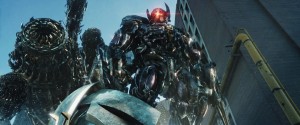 Now, on to more TRANSFORMERS related talk.  Shia LaBeouf recently commented on the fact that Megan Fox is not in the new film and why.
Megan developed this Spice Girl strength, this woman empowerment that made her feel awkward about her involvement with Michael, who some people think is a very lascivicious filmmake, the way he films women.  Mike films women in a way that appeals to a 16-year-old sexuality.  It's summer.  It's Michael's style.  And I think (FOX) never got comfortable with it.  This is a girl who was taken from complete obscurity and placed in a sex-driven role in front of the whole world and told she was the sexiest woman in America.  And she had a hard time accepting it.  When Mike would ask her to do specific things, there was no time for fluffy talk.  We're on the run.  And the one thing Mike lacks is tact.  There's not time for "I would like you to arch your back 70 degrees.
I mean the comments towards Bay don't surprise me in anyway.  Just look at his films.  The women look incredible in all of them, and they are all posed in sexual poses at least one time in each film.  What does surprise me is that Fox was uncomfortable with it.  Maybe I would believe that she didn't like how Bay talked to her, but based on past comments by her, I think she is okay with being a sex symbol.
What do you think about the photo of Shockwave?  What do you think about Shia's comments?  Who do you think is hotter, Huntington-Whitely or Fox?