New Mad Max film on the way?
Apparently pre-production for Mad Max 4 is under way in Australia. Rumor is that Sam Worthington is going to be playing the role made famous by Mel Gibson. Can Worthington play a role that has already been done so well with another actor? Well, you'll have plenty of times to see his acting chops in the next year or two. Worthington is tied to a lot of high profile projects such as Avatar, Clash of the Titans, and 20,000 Leagues Under the Sea. Along with a role in the summer flop, Terminator Salvation, Worthington has been appearing in a lot of huge projects. Pretty spectacular for an actor hasn't had any box office hits yet.
From The Daily Telegraph:
---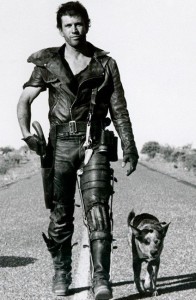 THE original Mad Max put the Australian film industry on the map and launched the career of one of our most recognised actors, Mel Gibson.
Twenty years on and Mad Max 4: Fury Road is about to restart the local movie industry, being filmed entirely in Sydney and Outback NSW.
The Daily Telegraph has learned that work on the film will start immediately, injecting tens of millions of dollars into the economy and creating more than 500 jobs.
There has been no confirmation yet of who will play the role of the Road Warrior but rumours abound it will be Australian Terminator star Sam Worthington, with Charlize Theron to co-star.
Much of the work will be done at Redfern's CarriageWorks and there will also be 30 weeks of filming in Broken Hill. It is estimated the whole project will take two-and-a-half years to complete, create 540 jobs and generate countless millions.
The owner of the Silverton Hotel, outside Broken Hill, made famous by Mad Max 2: The Road Warrior said the news was extraordinary.
"This is bloody huge," he said. "Absolutely magnificent. Silverton depends on the film industry, it survives on the film industry, and if Mad Max is going to be filmed here it's going to be just tremendous."
Industry sources said Premier Nathan Rees moved heaven and earth to get the film after Sydney lost the movie version of Green Lantern in an unexpected blow to the local industry. Producer and director George Miller said NSW had done extremely well to win the project and had put Sydney back on the map.
"Hollywood has cut its production in half. Big movies like Fury Road and Happy Feet are rare and competitively sought after in all the filmmaking regions of the world," he said. "The production agreements have been a long time in the making and Premier Rees and his team have worked like Trojans to ensure this substantial investment comes into this country. Not only does it help fuel the local economy but it means many talented people get a chance to practise their craft and lift their skills."
The first Mad Max movie (1979) was filmed in Victoria with Mad Max 2: The Road Warrior (1981) filmed mainly in and around Broken Hill. Mad Max Beyond Thunderdome (1985) was shot in Coober Pedy in South Australia and in NSW.
CarriageWorks will be used for the development work for Fury Road, as well as Miller's sequel to Happy Feet.
Miller's company Kennedy Miller Mitchell will start pre-production immediately. Filming starts next year.
"The Mad Max films are iconic," Mr Rees said. "In the hands of director George Miller, we will see one of the largest and most ambitious live action films ever made in Australia. This is a clear vote of confidence in Australian expertise. This proves that Sydney is an international contender for major film production."
---
As much as I love Mad Max, this continues the trend of Hollywood being sequel and franchise happy. I'm not really sure we need another film in the Mad Max series. Wasn't it fine as a trilogy? I really don't mind a franchise when it is needed,  but sometimes it seems a bit obvious of how they are trying to milk our money from us. Although, if it ends up being good I'll erase all of this and say, "I thought it was a good idea all along."