Justin Theroux producing 'Air Guitar'
You may not be familiar with him by name, but you've seen Justin Theroux before. This multi-talented actor wrote the screenplay for the highly successful comedy, Tropic Thunder. He is also the one responsible for writing the screenplay to the sure to be summer blockbuster, Iron Man 2. So, obviously I stand up and take notice when he gets picked up to do something on a film now.
From THR.com:
---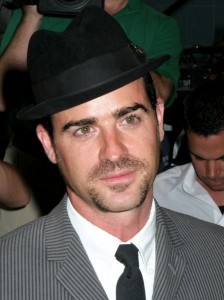 Justin Theroux is jamming.
The hyphenate has signed to produce the Paramount comedy "Air Guitar," a story of the competitive (in an ironic sort of way) world of imaginary licks and very real scissor kicks.
Mike Lisbe and Nate Reger have signed on to pen the script about the pic, set in the world of air-guitar competitions and featuring the colorful characters who participate in them. "Enchanted" producer Barry Josephson will join Theroux in producing.
Theroux is not considering directing or acting in the pic at this time, say people familiar with the project.
"Guitar" originally was developed with Josephson at DreamWorks but ended up at Paramount after the companies split. Adam Goodman and Ashley Brucks are overseeing for the studio; both come from the DreamWorks side.
Theroux, repped by UTA and 3 Arts, is next up in "Your Highness," Universal's David Gordon Green comedy fantasy in which he plays an evil wizard. He has evolved his career beyond acting, penning such pics as "Tropic Thunder" and "Iron Man 2," both distributed by Paramount.
Lisbe and Reger, repped by UTA and Category 5, were writers on television hits like "Just Shoot Me!" They're also attached to write the animal-tamer comedy "Untamed" at Warner Bros. and the male-oriented comedy "Space Invader" at Fox.
"Guitar" came to DreamWorks several years ago, with Ian Roberts and Jay Martel attached to write the project, which was based on the 2006 comedic documentary "Air Guitar Nation" and a book, "To Air Is Human," written by one of the colorful figures from that pic, Dan Crane, who plays under the name Bjorn Turoque (of course he does).
Rock-themed male comedies have had a mixed record, with films like "The Rocker" and "Tenacious D in the Pick of Destiny" underperforming in recent years.
But faux musicianship has been hot, becoming the basis of hugely such popular video games as "Guitar Hero" and "Rock Band."
---
The industry is really trying to get us to buy into this 'be a rockstar' motif these days I guess. Although, I seem to really like it. There was an ok air guitar doc not too long ago called Air Guitar Nation that wasn't too bad. Shows you that there really are people out there who compete at something so useless, but have so much fun doing it. Kind of a blast to watch.