New "Battle: Los Angeles" Poster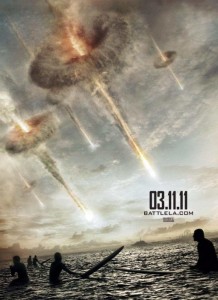 When I first read about Battle: Los Angeles, I was very skeptical.  It seemed like another film jumping on the coat tails of District 9.  I love District 9, but I don't want to see this overload of films about alien invasion made on a meager budget.  I saw the posters released during Comic-Con and read the comments from the cast made during their panel.  But all actors say that their movie is great before it comes out.
Then I saw the first trailer.  I absolutely fell in love with it.  It is edited perfectly.  The music works great with the footage shown.  I love that you get to see the ships and explosions, but you never quite see what the aliens look like.  Just enough to leave you wanting more.  And I am definitely wanting to see more.
So today I give you the new poster from the film.  It is much different from the previous posters that have been released.  This is actually an image from the film where the previous posters were images of different alien sightings from around the world.  I love movie posters and have a decent collection of posters from my favorite films.  I think this is a great teaser with a great image. 
For years, there have been documented cases of UFO sightings around the world — Buenos Aires, Seoul, France, Germany, China. But in 2011, what were once just sightings will become a terrifying reality when Earth is attacked by unknown forces. As people everywhere watch the world's great cities fall, Los Angeles becomes the last stand for mankind in a battle no one expected. It's up to a Marine staff sergeant and his new platoon to draw a line in the sand as they take on an enemy unlike any they've ever encountered before.
Is this a movie you are looking forward to?  What do you think of the poster?  Let us know in the comments below.