NBC Tonight Show: Jay Leno Is Back, Conan O'Brien Is Out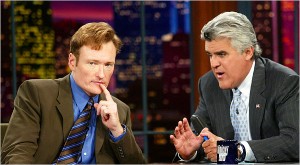 In this day and age everything is one side or the other. No fence sitting here. You were either Team Jolie or Team Anniston, you are Team Jacob or you are Team Edward. Now you are either Team Coco or Team Leno.  Well, if you were on Team Leno you'll be happy to hear the news that Conan O'Brien will no longer be hosting the Tonight Show after next week. Once back from the Olympic break Jay Leno will be back hosting The Tonight Show at 11:35ET.
Many sites are reporting right now that Leno has already signed a contract which means that Conan is all but dropped, and his last night hosting the show will be January 22nd. He will get paid out the rest of his contract, but rumor has it that NBC head Jeff Zucker is wanting to put Conan "on ice" for not cooperating with the network.
On the business side of the issue I can understand. When ratings are bad, you cancel. Late night shows like this are a bit different though. It takes a little bit to grow an audience, and Conan needed to find ways to adapt to an new audience. I don't think anyone thought that NBC would give him way less than a year to get his ratings up.
NBC has made mistake after mistake from the beginning. The first mistake was forcing Leno out while he was still getting ratings. Another mistake was giving Conan a 5 year deal, and not stand behind him after he got beat in the ratings by an established late night host, David Letterman.
I really enjoy Conan, and I check out his show every now and then. I'm not a big late night TV show watcher. While I might check out Conan from time to time, I never watch Leno. I don't really like his brand of humor, and the man just grates on me. I don't blame him for the situation though. This is a bungle by NBC and I hope they see their ratings drop heavily because of it.
What does everyone think of this? If you were a Leno watcher before, will you be back? If Conan moves to another network, will you watch? Let us know in the comments!