NBC Offers Up Resolution For Conan and Jay; $45 Million Dollar Deal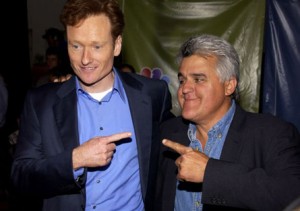 Another day and yet more Jay Leno and Conan O'Brien news. Luckily it seems that things are finally settled between all parties. NBC can finally start to clean up some of the mess they've made, and try to get their ratings back up to a respectable level.
The deal is that Jay Leno will be back hosting The Tonight Show starting March 1, 2010. This means no more Jay Leno Show, and no moving the Tonight Show and programs following it back a half hour. Leno will have his shot at bringing the ratings back up to a level they were before Conan O'Brien. Leno's ratings have been sliding for years, and with this latest debacle it might be hard for him to regain his footing in the long run.
Conan O'Brien and team will be getting an almost $45 million dollar payout,  the majority of it going to Conan himself, but $12 million of it will be used for severance packages of staff who are not in contract with NBC and will be losing their jobs. The deal looks to be better than expected for Conan, since NBC waived mitigation clause. The mitigation clause would have saved NBC money if Conan went to another network. The clause basically stated that if Conan took a job for $12 million, NBC wouldn't have to pay him that money, only the remainder of the contract minus the sum being paid for his current job. Since NBC waived that clause Conan will be walking away with over $30 million dollars, and will most likely sign a contract with another network. The contract he has now does not allow him to seek other employment until September 1, 201o.
Tomorrow night will be Conan O'Brien's last night on The Tonight Show, and it should be interesting to see what kind of ratings he pulls in. There is no doubt that he has been much better, and more entertaining to watch since this happened. His remarks are more candid, and it looks like he is holding nothing back.
Watch below to see a clip of his show from last night: