Cartoon Network Order Two More Seasons of 'Robot Chicken'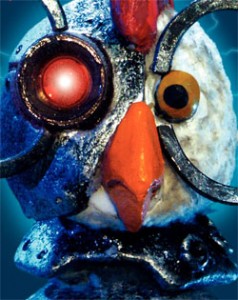 First of all, what the hell is an Aluminum Falcon? Second of all, I'm a huge fan of Robot Chicken, it is one of the most consistently funny shows of its type. So, when I heard creators Seth Green and Matthew Senreich and Cartoon Network hit a two-season 40 episode deal for the stop motion animated comedy, I almost jumped out of my chair with excitement.
It really is no surprise as it is the highest rated program on Cartoon Network's popular Adult Swim series. Along with high ratings the show has received Emmy nominations in the past couple years for Outstanding Animated Program and Outstanding Voice-Over Performance, and has won multiple Emmys for animation. In addition to Emmy awards, the show has received Annie Awards (the Oscars of Animation basically).
"We're very excited," says Green, "we never expected to do a second season, let alone a fifth and sixth, so we are thrilled by the audience response and how the show continues to grow internationally." Senreich says, "We love Adult Swim. It's really that simple. From the get-go, we've always said that 'Robot Chicken' was a show where we play with friends and we look forward to doing that for years to come!"
From the program you can obviously tell that is a show created by a bunch of friends having some fun. If you haven't watched it, go out and pick up a DVD of the show today. You won't regret it!
Check out a clip below: